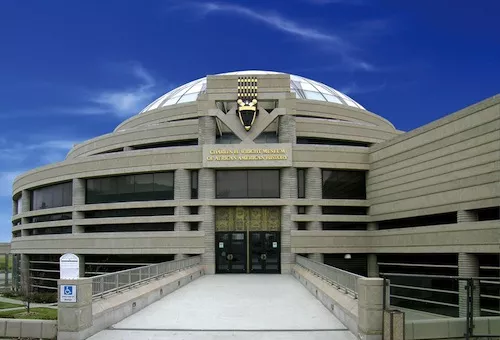 You might not know it, but this weekend features Detroit's largest ethnic festival. If you have to think what that heritage might be for more than a moment, it's probably because we're not used to African heritage being registered as an ethnicity. And yet it's not only Detroit's largest ethnicity, but one of its most diverse, encompassing the descendants of slaves, West Indians, actual immigrants from Africa, of varying regions, countries, cultures, and ethnic groups, and a mixture of all those identities.
It's the kind of cultural richness that can present a bewildering array of diversity for the newcomer, and that's precisely why the African World Festival is such a stimulating event. It's already in swing today, and continues for the next few days at the Charles H. Wright Museum of African American History.
The festival draws more than 150,000 visitors each year, and it's no wonder: In 34 years, the festival has grown to encompass art, music, and history, and so much more that it has become the museum's largest annual event.
How large is it? The sheer amount of stuff going on boggles the mind. Events on offer include fashion shows, book talks, poetry, spoken word, the Kuumba Artist Village, walking tours, live theater, African drum and dance performances, as well as drum and dance workshops, including one dedicated to the martial art of capoeira. Attendees can expect an elder village, an AfroPop concert featuring performers from Cameroon, Sierra Leone and Nigeria, and also some more American-inflected entertainment, such as blues from the Thornetta Davis Band and R&B from Al B. Sure. There will even be an outdoor global marketplace with more than 150 booths with vendors on Brush at Farnsworth.
The cultural edification runs from 11 a.m. to 11 p.m. each day all weekend long, Friday through Sunday. For more information, call 313-494-5824 or email [email protected] For a full schedule of what's happening where, click here.