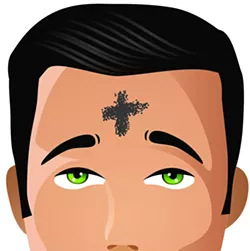 The season of Lent in upon us. The 40 days of fasting and repentance that precede the religious holiday of Easter begins on Feb. 10, a day in the church known as Ash Wednesday.
Usually this is a day that you'd take a couple hours off work to attend the mandatory mid-afternoon church service where a priest/pastor/minister would administer ashes (which are supposedly made from the palm fronds from the previous year's Palm Sunday, we looked it up) to your forehead in the shape of a cross. You don't know the reason for this odd practice, we're sure, and we're not about the delve into it here.
What's more important is that now you don't have to attend that boring, austere service (mass?) so that everyone can tell you there's something on your forehead all day.
St. David's Episcopal Church in Southfield are offering "drive-thru ashes" this Ash Wednesday when a robed minister will stand outside the church on 12 Mile for several hours throughout the day, offering motorists the ashen cross.
From 7 a.m. to 9 a.m., from 11 a.m. to 1 p.m., and from 4 p.m. to 6 p.m. motorists will be able to pull alongside the church to be #blessed, say a short prayer, and receive the mark. These hours were selected to coincide with morning and afternoon rush hours and lunch time, according to a press release.
"Ash Wednesday is intended to provide a time of reflection and repentance for what we have done and what we have failed to do," Rev. Chris Yaw said in the release. "We hope that Drive-Thru Ashes can make the message and meaning of this day more accessible."
St. David's Episcopal Church is located at 16200 12 Mile in Southfield.