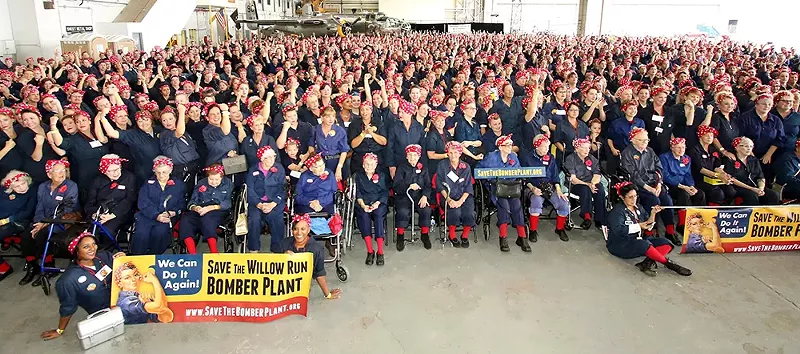 Rosie the Riveter is easily one of the most recognizable images from U.S. history. A cultural icon created to represent the women who went to work in factories during World War II, Rosie continued to represent issues of women's rights and gender equality long after the war ended.
"Rosie the Riveter is part of our history in Michigan," Michigan U.S. Congresswoman Debbie Dingell said in a press release. "She has inspired generations of women to break down barriers."
In 2015, a group of over 2,000 women dressed as Rosie the Riveter descended upon the Willow Run complex in Ypsilanti and earned a Guinness World Record as the largest gathering of Rosies to take place since WWII.
But, a year later, that title was taken by a group in California will a little over 100 more women than the Willow Run group.
Now, organizers are hoping to reclaim the title. On Oct. 14, they will once again gather at the former bomber plant, where the original Rosie, Rose Will Monroe, worked as a riveter at the complex building B-24 bombers for the U.S. Air Force.
"Like the Rosies who came before us, Michigan women embody the 'We Can Do It' spirit," Dingell said. "With the help of women all across the state, we are going to take our record back with a gathering that no one else can beat."
Doors to the event open at 9 a.m. and while it is free, attendees are asked to
register in advance
.
Qualification for the Guinness World Record also requires attendees abide a specific dress code including dark blue work clothes, red socks, dark work shoes (sneakers, flip flops, sandals, or high heels are grounds for disqualification), and a red bandana with white polkadots — no paisley.
The go at a new record is also part of
a campaign to preserve and renovate the bomber plant
, where the Yankee Air Museum hopes to move its operations.