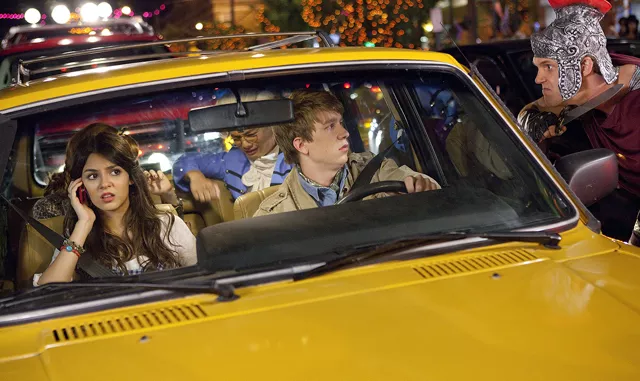 Fun Size | C
Fun Size is an '80s teen romp for the benefit of kids who weren't even a glimmer in their parents' eyes during the heady Reagan years, when teen comedies roamed the earth like giant ravenous beasts. In basic structure, this breezy little starter flick resembles "night on the town" John Hughes favorites like Sixteen Candles and Adventures in Babysitting, with some watered-down nods to Superbad. 
Factory-farmed Nickelodeon starlet Victoria Justice stars as brainy, gazelle-like teen Wren, a geeky gal whose idea of a sweet Halloween costume is dressing up as judge Ruth Bader Ginsburg. She would be a total social outcast if it weren't for her innate hotness, which makes her the object of affection for both her nerdy study buddy Roosevelt (Thomas Mann) and the school's reigning dreamboat cool dude Aaron Riley (Thomas McDonell), who invites her to the all-important Halloween kegger, the must-attend event of midautumn. Unfortunately, both guys are as bland as oatmeal, so the Molly Ringwald-style boyfriend-selection dilemma is a nonstarter. 
Wren's snarky, firecracker BFF, April (Jane Levy), would rather die than miss the party, but the girls are tasked with taking Wren's chubby, mute, weirdo little brother Albert (Jackson Nicoll) trick-or-treating. It takes about five minutes for the portly little troublemaker to get lost and embroiled in an elaborate revenge/prank scenario between a slacker convenience-store clerk and an embarrassed-looking Johnny Knoxville. And if you can embarrass the star of Jacakss, then you know your material is whack. 
Antics ensue, though mostly just as a framework for a string of weak poop, fart and sex gags that seem jarring in a comedy targeted at 12-year-old girls. Parents dragged into the theater may squirm a bit, though kids tend to embrace stuff that's bad for them, no matter how out of place some of the crudeness is. Equally out of place is Chelsea Handler as Wren's semi-irresponsible, vain, cradle-robbing mom, who's so wracked with grief over her deceased husband that she crams herself into Britney Spears schoolgirl miniskirts and hangs out with 20-somethings. Nobody has yet found a way to translate Handler's boozy, bitchy, celebrity-bashing boob-tube persona into something usable on the big screen, but that doesn't stop them from trying. 
Most of the dialogue sounds like it came from 35-year-old guys — and not from Carly Rae Jepsen fans. Only Levy, who anchors the ABC sitcom Suburgatory, has the comedic chops to pull this stuff off — albeit barely. The lovely, energetic Levy seems ready to graduate to better work soon, but the pretty, vacant Justice might want to sign up for night classes.