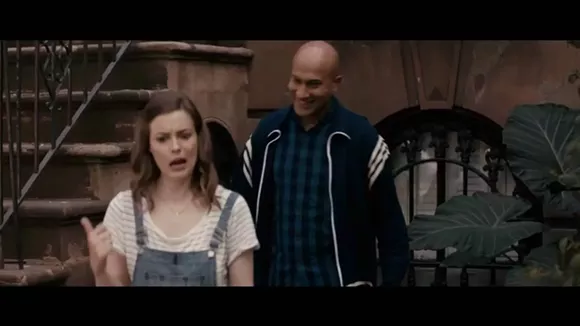 There are a lot of unwritten rules in the comedy world. They are sacred. Contrary to a lot of unwritten rules, they are there to foster the best possible outcome. Specifically, in the improv world, "Yes, And" is the Golden Rule. The idea is that you agree to whatever your co-performer says and then expound before passing it on. The inner workings of an improv group are captured by Mike Birbiglia in
Don't Think Twice
. 


Now, this might seem like an awful way to spend an hour and a half. We all know that guy that says, "I think I'd be really good at improv." But when it's performed at the elite level, it becomes an art form. It requires a strong team who literally know what each other will do before they even have a chance to do it. At this ability, improv is a foreign language.
Writer/director/star Birbiglia, however, is clearly fluent in it. Through his genius direction, he was able to translate it and make it accessible to viewers. While the movie focuses on an improv group, the real story happens off stage when one of the members hits the big time and the rest of the crew is left fending their raw emotions. 


Birbiglia was in town recently and sat down with
Metro Times
to talk about the already-critical hit. One of the things the film tackles head on is the innate ugliness that is jealousy. When Jack, played by Detroit's own Keegan Michael Key, gets recruited to be the new guy on a
Saturday Night Live-
like show, the remaining members of the improv group have to deal with "why not me" syndrome. 


"Jealousy is a virus that's in everything. It's something I feel. It's something I'm ashamed of," says Birbiglia. "When I look at Miles (his character), it makes me cringe to say the words because those were some of the emotions that I felt."


The awkwardness that runs throughout the movie is fueled by jealousy, but it never gets to the point where you hate a character solely because they are green with envy. That's where Birbiglia shines. His writing and direction let you into this world but instead of making you root against anyone, he makes them all people you could see yourself hanging out with. 


Don't Think Twice
is Birbiglia's second feature film. His first was an ultra-personal tale called
Sleepwalk With Me,
where the first film focuses entirely on his character, the new one is 100 percent an ensemble piece. Experience granted Birbiglia the knowledge of how to capture the exact tone he desired. 


"I learned a great many lessons, cinematically. The best lesson is 'shoot more.' Shoot more footage. Roll longer. Roll earlier, cut later. Every second, every frame matters," he says. "Whenever I would do the improv, I would say do this in your own words, but I may have to reel it in to get this line." 


The other vital cogs in this well-oiled machines are the actors. Key crushes it. The man is fire right now. But actors Gillian Jacobs, Tami Sagher, Kate Micucci, and especially Chris Gethard are all at the very top of their game in
Don't Think Twice
. And Birbiglia knows it.


"I don't know if I'll ever work with a cast this brilliant again, and I've had to come to grips with that," he says. 


So, while the moviegoing audience is blessed with abundance right now, there is only one movie out that will make you cry laughing and maybe also do the regular cry too.
Don't Think Twice
won't win the box office, but it'll surely win your heart.