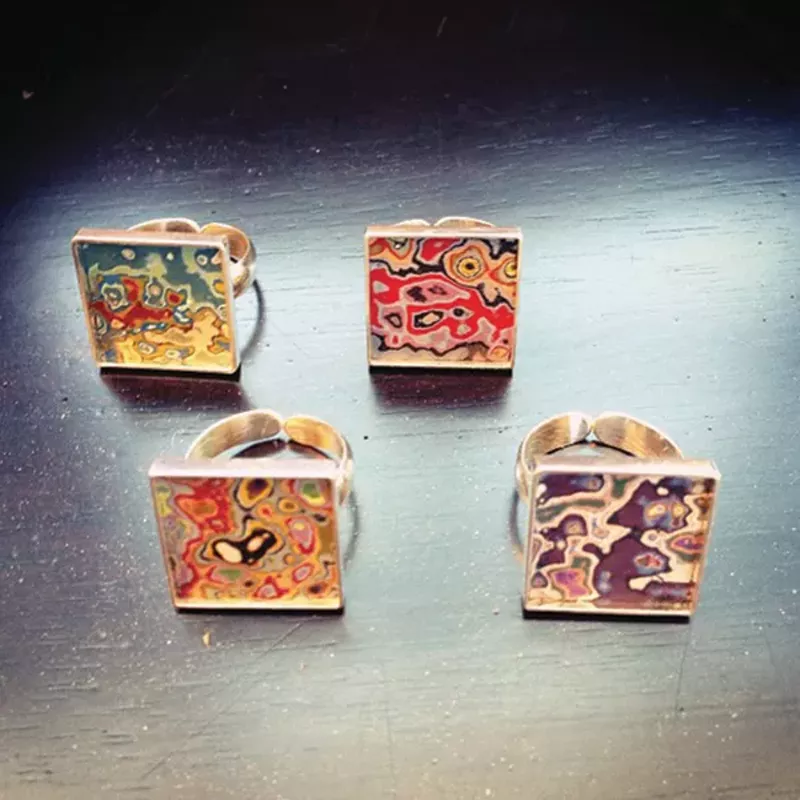 Jogging the Dequindre Cut one day, attorney Amy Peterson was struck by the beauty of a fallen chip of graffiti paint. Originally from Jamestown, N.Y., Peterson came to Detroit for her "dream job" by way of Boston after earning degrees from both the New England School of Law and Suffolk University's MBA program.
"The city's been really good to me," Peterson says of Detroit. She wanted to give back somehow and spent a great deal of time discussing how with her good friend — and now business partner — Diana Russell.
Peterson had a jewelry business while in law school; after seeing the movie Hotel Rwanda (about the 1994 Rwandan massacre), she was moved by the plight of the Rwandan people and called a friend who worked for an aid organization and offered her services. The friend said that the organization needed an "awareness pin," so Peterson designed and produced the pin. When Hotel Rwanda was nominated for an Academy Award, the friend called and asked if Peterson could make 100 pins and overnight them in time for the Oscars.
The attorney was thrilled to see her pin on the red carpet, worn by such celebrities as Carlos Santana, Cher and Hotel Rwanda star Don Cheadle. All of the remaining pins produced were sold through the organization's website, and Peterson contributed all the proceeds to the Rwandan relief effort. The experience left her wishing she could go to Africa and see the good done by her efforts.
"I wanted to see the difference," says Peterson, who says the experience shaped her current project.
That fallen chip of paint became the catalyst that pulled together Peterson and Russell's jewelry-making experience, combining Russell's retail background, Peterson's business experience, and both women's desire to empower other women and give back to the city.
Rebel Nell is a L3C — a limited low-profit liability company — an organizational structure that business attorney Peterson describes as "if a 501C3 non-profit and an LLC had a child, an organization that is socially rather than financially driven."
Rebel Nell's name derives from "Little Nell," the nickname Eleanor Roosevelt's father gave her ("she was a badass in her own right," says Peterson), and the rebellious nature of graffiti as an art form.
The goal of the organization is to put women to work and teach them the skills to do everything from crafting the jewelry to selling it. "Ideally, we'd like them to become their own individual entrepreneurs one day," says Peterson. Crafting the pieces involves processing the paint chips and putting them on silver-filled backings for structure.
"When you get these pieces of graffiti, they look a little rough on the surface," she says. "I love that we're able to bring out the beautiful layers. We want to bring out their (the women's) beautiful layers and help them shine and help them be these beautiful gems of Detroit."
Rebel Nell makes pendants, rings, earrings and cuff links. Prices range from $65 to $165. Items can be purchased at the Detroit Artist Market, Third Thursdays at Eastern Market and will soon be available online at rebelnell.com.