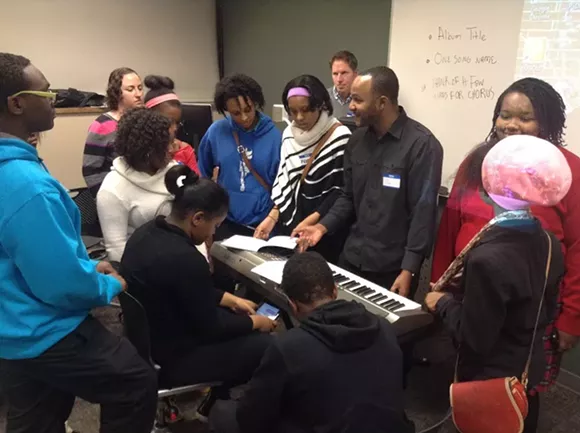 The next generation of Detroit hitmakers have a chance to enroll in a free summer camp, thanks to Eminem and Carhartt. We know, keep reading.
Verses: Exploring Literacy through Lyrics and Song is a program offered by the Michigan State University Community Music School-Detroit (CMS-D), located on Woodward Avenue in Midtown., that explores the interplay of music and literacy, re-thinking how words and sounds in our everyday life are integrated into the music we make and encounter.
The program launched back in February, and is jointly funded by Carhartt and the Marshall Mathers Foundation by using more than $240,000 in proceeds raised during an international auction that featured 10 pairs of limited-edition Eminem x Carhartt x Air Jordan sneakers.
Not a bad way to raise some serious cash, sneakerheads are nuts.
Now, this summer Verses is hosting week-long camps for students who are interested in songwriting, music composition and music technology.
Students will learn about songwriting, composing, performing, mixing, and recording, along with special sessions with expert instruction on both instrumental and non-instrumental skills. At the end of the camp students will perform and record what they've created.
Verse's Poet-in-Residence is Detroit native Will Langford. Both an MSU and Pennsylvania State University alumnus, Langford is a Fulbright Scholar, and was featured in an
Emmy-winning PSA
for his poem about the feelings of being a new college student.
Those who are interested can apply by filling out
this form
and sending via email to
[email protected]
or mailing it to MSU Community Music School-Detroit, 3408, Woodward Ave., Detroit, MI 48201.