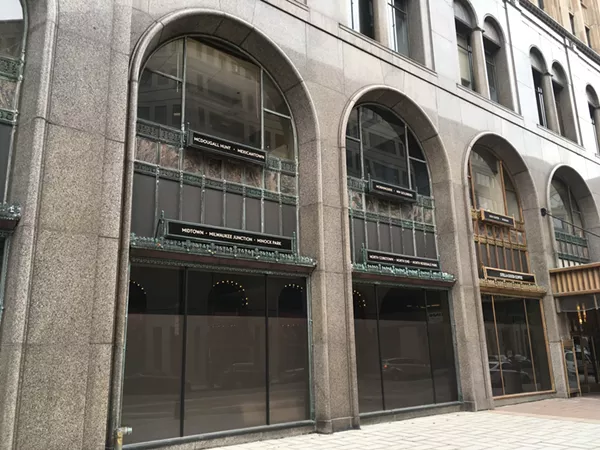 Since coming under new ownership in 2016, Detroit's iconic Fisher Building has undergone a makeover of sorts. Purchased at auction by a development company called The Platform, the structure has seen cosmetic improvements as well as an overall image facelift.
The Fisher's arcade has hosted rock concerts, a half pipe, art exhibitions, and whiskey tastings. Once vacant retail outlets have been filled with locally owned businesses like Peacock Room, Yama, and Pot+Box.
Overall, the place has become the hub of activity it should be as the epicenter of the New Center neighborhood.
And now the Platform is helping to celebrate other neighborhoods within the city.
A new showcase and accompanying social media campaign welcomes locals to snap a pic in front of iconic brass signs displaying the names of 105 Detroit neighborhoods.
"Every person — from every walk of life — should feel welcome at the Fisher Building and should feel ownership of this iconic symbol of Detroit," Dietrich Knoer, president and CEO of The Platform, said in a press release. "The
new exterior signs are an invitation for Detroit residents to identify with the Fisher Building as the 'Beacon of Detroit.'"
In addition to the placards, The Platform has announced they will open a "maker space collective shop" in the building's concourse. The area will showcase goods made by a rotating cast of local artists.
The space will begin by hosting 12 Detroit-based artists ranging from designers to artisans.
"Our aim is to be in real relationships with the people who have been here through good times and bad, and to create a symbiotic relationship with newcomers," Knoer said in the release. "Our hope is to learn more about, and to showcase, the incredible talent and works of Detroiters here at the Fisher."
The Platform plans to roll out the collective maker space, named MKR Underground, in the coming year.