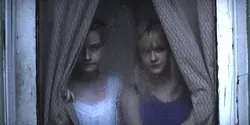 We Are What We Are | B
If nothing else, director Jim Mickle (Stake Land) should be commended for his subversive attempt to turn his slow-burn cannibal horror flick into a moody meditation on matriarchal power and the uncompromising demands of tradition. Unfortunately, his ambitions may leave him without an audience. For the blood-and-guts crowd, there'll be an hour of impatient shifting in seats before the arterial splashes hit. For the art-house crowd, not only will the subject matter be too much to handle, it is certain that Mickle's demented third act will turn stomachs.
Adapted from Jorge Michel Grau's 2010 Mexican horror film of the same name, Mickle and his co-writer Nick Damici move the action to the depressed backwoods of upstate New York, where the Parker family is grieving the death of their ma, who drowned in a puddle when she passed out from convulsions. Her husband, Frank (Bill Sage), is a dour religious man who insists that his eldest teenage daughter Iris (Ambyr Childers) assume her mother's duties. That means preparing the family's annual feast, a tradition that harks back to colonial times when a crippling winter left the men in despair and the woman did what had to be done to feed their family. Since then, the Parkers kidnap a young woman each year, imprison her in a cell beneath their barn, then eat her after two days of fasting.
The pressure of that responsibility begins to bear down on the high school senior, and she enlists the help of her defiant younger sister Rose (Julia Garner), who has begun to protest against the family's religious ways. Unfortunately, the girls dare not cross their iron-fisted father, fearing for the safety of their young brother Rory (Jack Gore).
To complicate matters, torrential rainstorms flood the local river, which washes the bones of past family meals downstream. The town's sad, old coroner (Michael Parks) becomes suspicious of the Parkers when his dog finds one of those bones, so he recruits Deputy Anders (Wyatt Russell) to investigate further. Soon he is connecting his discoveries with Ma Parker's strange illness and Frank's recent bout of hand tremors.
Mickle, with the aide of cinematographer Ryan Samul, does a terrific job of establishing a sinister, gothic atmosphere of claustrophobic tension. He's in no rush to feed the genre's gorehounds, opting instead to gradually tighten screws. There's even a vein of sadness in Frank Parker's mad allegiance to his faith and the toll it takes on his family. Unfortunately, everyone is so soft-spoken and reserved, it's hard to feel much connection to what's going on and where things are headed. Kelly McGillis breathes some life into the film as a no-nonsense neighbor, but it's not quite enough to overcome the film's lethargic pace and humorless approach.
What's intriguing is Mickle's focus on the feminine. The subtext of women being the enablers of male madness is worthy of exploration, and one wishes he had spent more time developing the sisters' relationship. Both Childers and Garner are terrific as girls struggling with the transition into womanhood. Instead, Mickle presents clever visual metaphors for Iris' sexual awakening, including flooding banks and unearthed graves.
More uncomfortable and creepy than outright scary, We Are What We Are finishes things off, appropriately enough, at the dinner table. It's there that the narrative explodes into the kind of deranged violence horror fans crave. It's a shocking bit of gruesomeness that doesn't quite fit with what comes beforehand, leaving a disappointing aftertaste for those who hoped for more.
We Are What We Are is rated R and has a running time of 100 minutes.