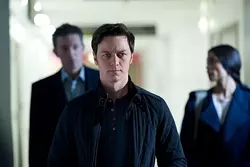 Trance| B-
Danny Boyle (Slumdog Millionaire, 127 Hours) sure can direct the hell out of a movie. The Oscar-winning filmmaker injects every minute of Trance's plot-tangled running time with frenetic energy and style, using low and canted angles, arty edits and impossible camera glides to cleverly distract us from an implausible story that never plays fair with its twists. Screenwriters Joe Hearn and John Hodge desperately want to give audiences an unpredictable, mind-bending cinematic experience. Instead their plotting is just mindless, a shapeless psychedelic mess that trades in dubious pop psychology and half-baked drama.
James McAvoy is Simon, an art gallery curator who acts as the inside man on a heist conducted by Frank (Vincent Cassell), a crime boss and thief. The score is Goya's "Three Witches," valued at north of $25 million. But rather than sticking to the plan, Simon inexplicably decides to improvise and gets a violent blow to the head for his troubles. This results in memory loss, in particular the location of the stolen painting. When torture fails to jog Simon's memory, Frank enlists Dr. Elizabeth Lamb (Rosario Dawson), a hypnotherapist, to help reveal where Simon stashed the canvas. But Elizabeth wants a piece of the action, which leads to both a dangerous love triangle and ever-deepening mind games. Until the final moments of the film, you're never sure who's manipulating whom and why.
And that's a big part of the problem. After wandering through Boyle's preposterously flamboyant funhouse of mirrors you discover there's nothing at the end. Pull back the curtains of misdirection, hallucinations and shifting character motives and you discover that the puzzle you'd been tasked with putting together is missing a lot of important pieces. Oh, there's a third act exposition dump that explains the emotional underpinnings of Trance's needlessly labyrinthine plot, but it comes off as more of a "You've got to be kidding me" cheat than an "Aha" moment.
The characters are similarly thin. McAvoy wins our sympathy at the start but nothing in his behavior hints at where his character will end up. As a result, his big revelation comes across as more of an attempt to plug plot holes than an inevitable fate. Still, he's an engaging enough everyman that we stick with him. Dawson, who provides even fewer motivational breadcrumbs, is a commanding presence and absolutely lovely to watch (even without the full frontal nudity), but little more than a cog in the screenwriters' ridiculous machine.
Which leaves us with only Boyle's bravura filmmaking to pull us along. And truth be told, it's almost enough. Trance revels in style over substance as it builds toward its fiery conclusion. Boyle's visual scheme is bold, his pacing is propulsive and Underworld's Rick Smith provides a score that throbs with hypnotic dreaminess. As with most dreams, however, it's best not to try to figure out what's going on.