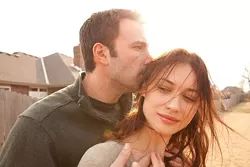 To the Wonder| B-
As a fan of director Terrence Malick's work it might seem odd to criticize his latest film, To the Wonder, for its lack of specificity. After all, anyone versed in Malick's recent movies would be hard-pressed to describe efforts like The Thin Red Line, The New World, and Tree of Life as concrete in expression. But unlike those films, which despite their lyrical flourishes had a meaningful core, this cinematic tone poem to unanswered love and faith fails because its ravishing, impressionistic visuals do not convincingly echo the emotions, desires or frustrations of actual human beings.
After falling in love in Paris and vacationing in Mont Saint-Michel, Neil (Ben Affleck) brings the ever-twirling Marina (Olga Kurylenko) and her 10-year-old daughter Tatiana (Tatiana Chiline) back to the United States. The trio settles into a featureless subdivision in Oklahoma, where Neil works as an environmental inspector and the women struggle with both geographical and cultural shock. Marina is convinced that she can bear the emptiness of the landscape and the blandness of an American lifestyle if only Neil loves her. But that seems far from certain. He seems to doubt whether he's made the right choice and she begins to fear that she's made a terrible mistake. When her visa expires, Marina and Tatiana return to France. Soon after, Neil stumbles into his old flame Jane (Rachel McAdams), and before long they're in a serious relationship. But Neil can't help but want Marina back. And so she returns and they pick up where they left off. Only things are not as they were before.
In parallel to their story we meet the local Catholic priest Quintana (Javier Bardem), a man struggling with his own kind of thwarted yearning. Though he diligently fulfills his duties — tending to the sick and the poor, performing sacraments, advising first Marina and then later Neil — he no longer feels the presence of God. He relentlessly searches for a hint of divine inspiration but finds only the desperate flailings of those who are lost or troubled. In To the Wonder, doubt, whether it is spiritual or romantic, becomes the defining trait of all its characters.
Narrative convention has never been one of Malick's concerns, but here he sheds almost all
externalization of thought, emotion or action. We witness the moments that take place before or after discussion but never during. The movie takes a defiantly fragmentary and impressionistic approach to its characters and plot, never once supplying significant context or exposition. Instead, Malickcharts the lonely spaces that can grow between a man and woman, a man and the God he worships, a society and the natural world, and a woman and her homeland. But without letting us understand who these people are, we can only react to them in the most generic way.
Neil, Marina, Jane and Quintana are more like shadows than realized human beings, given an improvised story, few if any lines of dialogue and no specific background. Their crisis of love and faith, their hunger for connection, their fear of loss and abandonment, is expressed in whispered, impossibly poetical voice overs. Sometimes uttered as philosophical musings or biblical passages, they sound like faint murmurings from the soul. Which is an artistically ambitious conceit but hard to meaningfully connect with.
Malick's movie is like a visual sermon, reminding us of the precariousness of the ground we tread upon. Whether it's Neil's endless trudges through blasted landscapes or the ever-shifting mudflats that surround Mont Saint-Michel, faith, love and nature are presented as sand beneath our feet — sometimes firm, sometimes perilously changeable.
This ecstatic approach makes Malick one of the most unironic filmmakers working today. His sincerity is both palpable and bold; but it's also his undoing at times. Never shy of overindulgence, he repeats his intellectual and visual conceits ad nauseam, and expands human expression into emotional incoherence. How many people can we follow as they walk away from us? Why is every woman in his films depicted as a knowing child? Must all our choices be connected to a larger cosmic ideal? Is every leaf on Earth so gloriously sun-dappled? There is a point where profundity can cross into parody and To the Wonder skates awfully close to that line.
Still, there's no getting around Malick's ability to powerfully weave together visually resplendent and achingly intimate scenes (the best of which is Affleck and Adams sitting atop a car surrounded by buffalo). For those who embraced The Tree of Life's kaleidoscopic ode to creation and memory, To the Wonder acts as a modern requiem to love. It's may be a lesser effort, but not for a lack of vision.