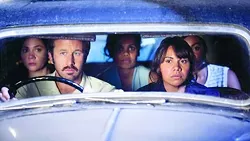 The Sapphires | B+
A crowd-pleasing musical comedy unashamed to wallow in its cornball pleasures, this sweet Australian import should prove an irresistibly sugary tonic to audiences hungering for an old fashioned good time at the movies. While I can confidently say this is the best movie I've ever seen about a '60s Aboriginal girl group in a combat zone, it is not as startlingly unique as the premise suggests.
There exisits an odd subgenre of breezy Vietnam War comedies, including: "Operation Dumbo Drop," "Air America" and, the gold standard, "Good Morning Vietnam." With it's abundant warmth and tuneful exuberance, "The Sapphires" also shares air with underdog, oddball musical romps like "Sister Act," "The Commitments," "Pitch Perfect," etc. Yes, you've seen it all before, but chances are you'll find comfort in the familiarity of the plotting.
Loosely based on the real stories of Lois Peeler and Laurel Robinson, lives that are intriguing enough to look into, the film charts the unexpected career of a talented trio of sisters from a dusty outback community far off any sort of show biz radar. Oldest sister Gail (Deborah Mailman), is the den mother, Cynthia (Miranda Tapsell) is the flirt and Julie (Jessica Mauboy) has the killer pipes.
The girls are discovered by a washed out, boozed-up wreck from the music business named Dave Lovelace (Chris O'Dowd), who has sunk to hosting a talent show in a fleabag hotel. He's a mess, but knows talent when he hears it. Thus begins the girls' cosmetic makeover: gone are the Merle Haggard-type country covers and an un-
pronounceable band name.
To round out their sound, they recruit cousin Kay (Shari Sebbens), who is lighter-skinned and has been "passing" for white over a number of years. There is much hand-wringing over Kay's racial identity, set against the civil rights struggles in both Australia and the U.S.; though such weighty concerns are mostly used as accents between the songs, including a host of Motown and Stax Label standards like "I Heard It Through The Grapevine," "Soul Man" and "I'll Take You There," which came out a little later than the era depicted in the movie, but who's counting?
The best, and only well-paying gig Dave can land his charges, is a tour performing for the frontline troops in Vietnam, dangerous duty, but hey — it's a gig. The combat backdrop provides plenty of room for internal squabbles, romantic entanglements and the occasional enemy mortar attack. The threadbare budget gets pushed to the breaking point in the action scene, but the cast just keeps shimmying their way past the clichés and snags.
The girls, a few of whom are newcomers to the screen, sparkle but the real treat is O'Dowd, best known as the shlubby cop love interest from "Bridesmaids," who shreds the screen as the cheesy Svengali-like band manager.
It's always a thrill to watch a star being made before your eyes, and even if this film somehow fails to find the mass audience it deserves, O'Dowd is surely on his way to great things. mt
Starring Chris O'Dowd, Deborah Mailman, Jessica Mauboy and Miranda Tapsell. Directed by Wayne Blair. Rated PG-13. Run time of 103 min.