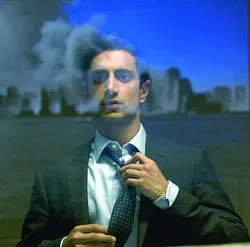 The Reluctant Fundamentalist | B-
If you think your job is tough, imagine the poor studio marketing shlubs tasked with selling an emotionally fraught character study about an enterprising young Wall Street hotshot turned intense Islamic militant — and pitch it in our current political climate.
Such a sales job would be a challenge on any given week, but in the shadow of the Boston bombings, and with the giddy distractions of the summer blockbuster season just getting under way, it seems a doomed mission.
It would help if the movie itself weren't such an achingly earnest but muddled slog through a decade's worth of political and cultural angst, wrapped around a rather pedestrian romance, and bookended by an espionage-tinged chess match that never meshes with the rags-to-riches to radicalism biopic underneath it.
Riz Ahmed certainly brings slow-burn intensity to the role of Changez Khan, a firebrand Pakistani professor in Lahore, who once chased the American dream, only to be chased away from Manhattan by the turmoil, profiling and bigotry that permeated the air in the wake of 9/11.
After the setup to a framing involving Liev Schreiber as a journalist, probing Changez for information about an abducted U.S colleague, we are launched into flashbacks about Changez's swift rise up the corporate ladder. After graduating Princeton, Changez lands at an elite financial services firm run by Kiefer Sutherland, whose character is a ferocious, well-tailored raptor in human skin, one who admires his new hire's tenacity, smarts and accent, which he says "makes you sound like royalty."
Soon our guy is living like a prince of the city, with a flush bank account, deluxe apartment and a gorgeous, artsy girlfriend played by Kate Hudson — with all the authenticity of a woman who once read an in-flight magazine article about what a hip, downtown photographer's life is like.
He's living out his fantasies, but inside Changez begins to be turned off by the predatory environment, and the job that requires him to scour companies' bottom lines for redundancies, which means mass firings.
Slow, simmering discontent boils over after he watches the World Trade Center collapse, and feels not remorse but "a sense of awe — and a split second of pleasure at arrogance brought low." Oh, boy.
Mira Nair, working from William Wheeler's adaptation of Moshin Hamid's 2007 novel, directs every moment with a surplus of good intentions, but all the subtlety of a pipe bomb. For every bit of sympathy we feel when the hardworking Changez gets wrongly hassled by cops and feds, there is a counterbalancing, angry sermon or outburst that illustrates his latent rage without fully articulating it.
At her best, (Mississippi Masala, The Namesake) the Indian-born Nair has eloquently captured her native culture, and the beauty and friction that come in trying to meld it with another. Here, she's out of her depth trying to cram a thriller into a conflicted spiritual journey. There is little surprise in Changez's rejection of greed and slimy financiers (who doesn't hate them?), but his failure to fully integrate into his adopted land despite best efforts is this flawed film's most provocative notion. Sometimes, the melting pot simply evaporates. mt
The Reluctant Fundamentalistis currently in limited release. This film is rated R; running time is 130 minutes.