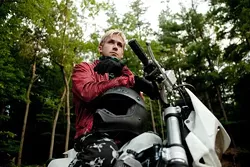 The Place Beyond the Pines| B-
Director Derek Cianfrance sure likes to put Ryan Gosling in some god-awful T-shirts. As if the dollar store eagle-emblazoned crew neck he sported in the brutish Blue Valentine weren't trashy enough, here, in The Place Beyond the Pines, his brooding Luke Glanton dons a moth-chewed Hanes that actually manages to upstage his numerous tattoos. Yet, even with Cianfrance's determination to deface Gosling's hunky charms, the actor's smoldering charisma turns a despairing tale into something tragically beautiful.
A lyrical ode to father-son relationships and tortured male identity, Cianfrance's The Place Beyond the Pines strives to be a moving, epic family drama spanning 17 years, two families, two generations and 140 minutes. Alas, it loses both momentum and impact the further it ventures into its broken narrative.
Gosling's Luke is a stunt cyclist who discovers that a brief fling with a woman named Romina (Eva Mendes) resulted in an infant son. Determined to be there for his boy in a way his father never was, Luke quits the carnival circuit and settles in Schenectady, N.Y., inserting himself in Romina's life.
Unfortunately, he has few job prospects and she already has a serious boyfriend. Desperate for cash, Luke starts robbing banks and discovers that he's good at it. But his bad temper and poor judgment puts him on a collision course with rookie police officer Avery Cross (Bradley Cooper), a man with a newborn of his own. The outcome of their meeting reverberates through both men's lives in ways neither could have predicted, allowing Cianfrance to chronicle the trickle-down impacts of past behaviors.
The first-third of The Place Beyond the Pines is riveting stuff; Gosling gives great depth and intensity to an "all I care about is my son" character that has, well, little character. But, before long, the story's point of view pivots to Cross, an ambitious yet naïve cop who struggles to connect with his new family. Cooper does solid work as a man who knows he doesn't deserve to be called hero, and a subplot involving corrupt fellow officers provides just enough tension to carry things along before Cianfrance's Greek tragedy enters its schematic third act.
Boxed in by narrative contrivances and too-convenient plotting, the moviecaps things off with the ill-fated friendship that develops between quiet loner Jason (the always good Dane DeHaan) and troubled teen AJ (a posturing Emory Cohen). Inevitably, the sins of both fathers come home to roost and the audience is left with disappointingly little to hold onto.
Though Cianfrance takes an effectively understated approach to his drama and knows how to hold our attention from moment to moment, his dense yet monochromatic film never displays any real spontaneity or depth.
Part of that is because each third of his movie focuses on a different protagonist, but mostly it's that all three segments are peopled with poorly developed characters who dutifully stumble into their shared histories. Cianfrance and his co-writers, Ben Coccio and Darius Marder, are good at keeping the trajectory of the film's first two-thirds layered and unpredictable, but they never take time to investigate their characters emotions and motives with any specificity or sophistication. As a result, each jump in time or perspective only heightens our disconnection from the overarching tale, leaving us less and less emotionally invested in the final outcome. Though it's clear that his full-circle finale is reaching for poetic closure, the experience is disappointingly impersonal.
Rumor has it the writerslabored over 30-something drafts before settling on the final script. Regrettably, much of that effort comes through in the exhaustive plotting. Though it's easy to respect Cianfrance's vision, ambition and craftsmanship — The Place Beyond the Pines looks and feels better than it is — his film never delivers on the potential of its greatness.
Opens Friday, April 12, at the Main Art Theatre, 118 N. Main St., Royal Oak; 248-542-5198.