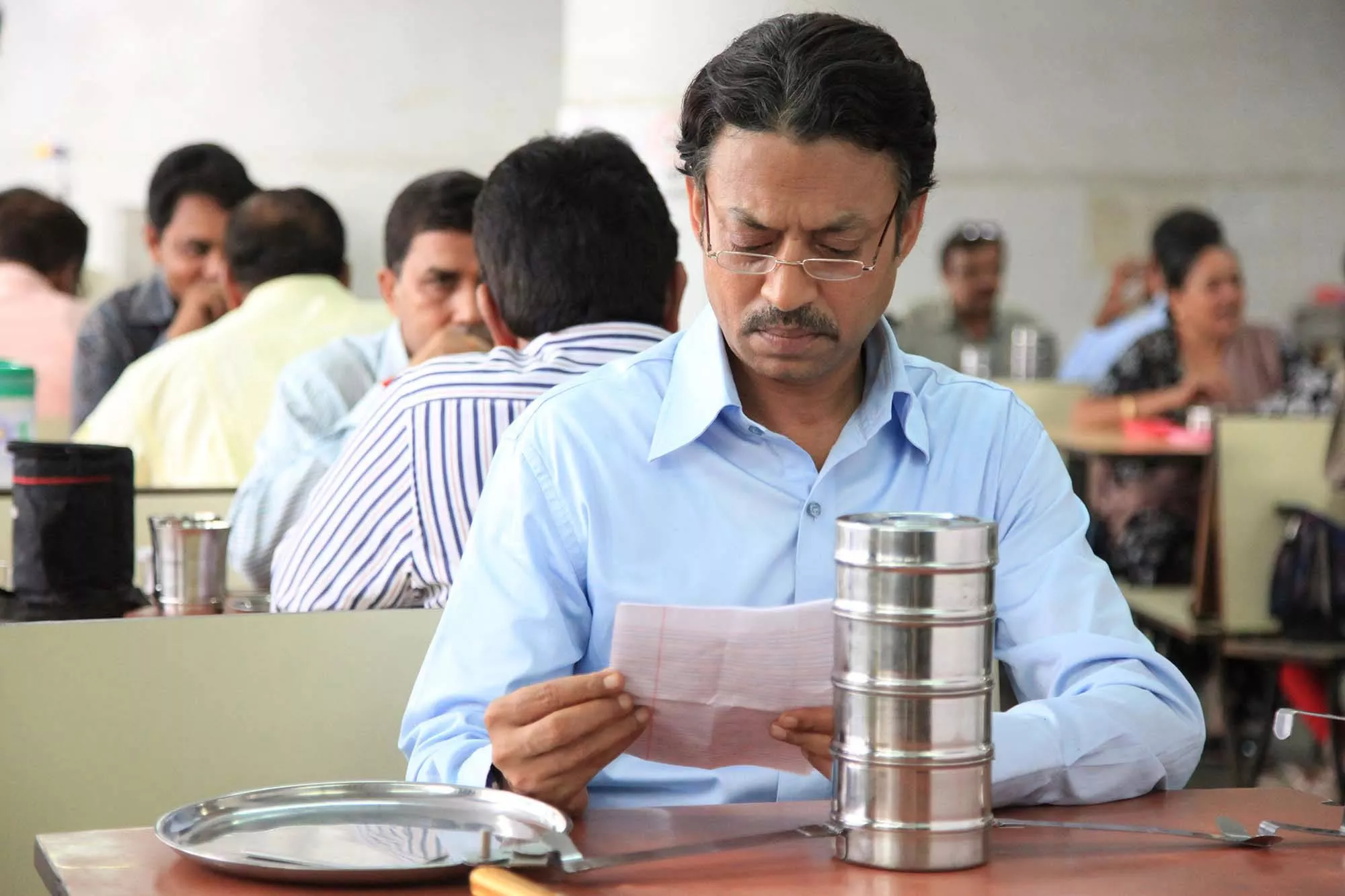 The Lunchbox | B
The lunchboxes say it all. Simple, round tins, filled with comfort food, stacked in nice neat columns and secured with a handle. Their destinations are the desks of workers who toil away in Mumbai's anonymous office buildings - exactly the kind of folks who might appreciate a tidy, functional rom-com that demands little from its consumers while offering a warm and affectionate morsel of entertainment.
First-time director Ritesh Batra's slight but pokey contraption is a device constructed from a long-line of American films that uses food as an expression of love, missed connections, and the heartfelt letters that pass between two lovelorn strangers. It's The Little Shop Around The Corner and You've Got Mail and 84 Charing Cross Road and every damn, predictable Nora Ephron movie you've ever seen spiced with a little curry.
As we quickly learn, The Lunchbox's inventive meal delivery service is a marvel of human ingenuity, delivering by bicycle, train and foot thousands upon thousands of lunches to their proper desks every day. The company brags that Harvard has studied their methods and British royalty were astonished by its efficiency. Cue up the wrong lunch landing on the desk of Saajan Fernandes (Irrfan Khan), a dispirited widower who processes claims for an insurance company. The misdirected meal, savory and filled with homemade deliciousness, becomes the highlight of his day.
Ila (Nimrat Kaur) is the unhappy housewife whose meals are making him so happy. Hoping to impress her neglectful husband, she pours her heart and soul into each meal. Eventually Ila discovers the mix-up and instead of alerting the company decides to continue sending lunches... and notes to the man who so enthusiastically licks clean her containers. Ila's own husband, it should be noted, simply accepts that his bland restaurant lunches are courtesy of his wife. A platonic yet empowering correspondence develops between Saajan and Ila and both begin to rethink the paths of their lives. Of course, what would these potential lovers be without each having an annoying comic foil. For Ila it's her shrill, domineering mother (Lillete Dubey). For Saajan, it's a striver trainee (Nawazuddin Siddiqui). Trust me when I say both are as irritating and unfunny as their Western counterparts.
Ultimately, Batra does a good job of highlighting his lonely characters amidst the crushing hustle and bustle of Mumbai, and his leads bring a naturalistic modesty to their roles that undercut the flimsy plot machinery that inexorably grinds toward its predictable conclusion. What's most welcome is the understated way The Lunchbox examines the interior lives of Ila and Saajan, allowing them to reengage with the world on their own terms. The film skips sticky melodrama and mawkishness in favor of modest character epiphanies. Too bad, what might have made for a sweet but satisfying 80 minute film struggles against the tedium of an hour forty. The Lunchbox serves up far too big a portion for such a modest package.
The Lunchbox is now playing. It's rated PG-13 and has a running time of 108 minutes. In English and Hindi with English subtitles.