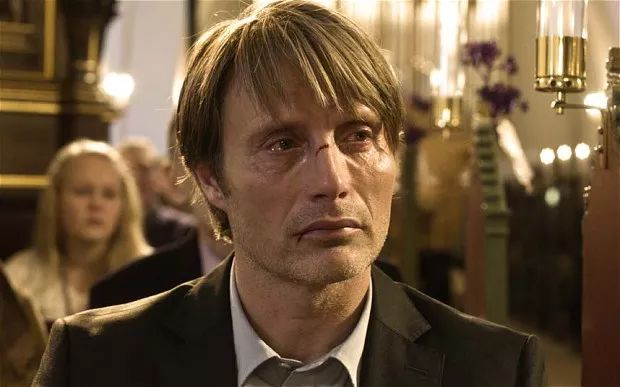 The Hunt| B+
Lucas (Mads Mikkelsen) is just starting to put the pieces of his life back together. Fired from his previous job and divorced from his wife, he's settled into a small town as a preschool teacher to make ends meet. Good-hearted and somewhat disheveled, he's found friendship, started a new relationship and landed a job with children — whom he dearly loves; and from them, the affection is returned.
For the adorable little Klara (Annika Wedderkopp), whose parents often forget to pick her up from school, this couldn't be truer. When we first meet her, she's wandering through the center of town, lost. Lucas catches sight of her and escorts her home.
Later, when Lucas rebuffs a romantic gift from the impressionable little girl, suggesting she give it to someone more appropriate — like her parents — she becomes angry and falsely suggests that he's guilty of sexual abuse. This ignites a hysterical witch-hunt that shatters Lucas' life and sends the town into a spiral of rumor and retribution.
Still, the well-meaning teacher believes his innocence will eventually be proven and his dignity restored. Director Thomas Vinterberg has different plans.
From its opening moments, when we watch Klara linger alone, the Danish filmmaker is priming our protective instincts, showing how vulnerable the blond-haired moppet is, how ready she is to become a victim of nefarious plans.
His film goes on to ask why we insist on seeing children as potential victims? Is it because we can't accept their innocence, that it must be endangered or defiled? If so, The Hunt makes a convincing case for the pathologies of evil that lie within all of us, with only the regret of an addled child to suggest otherwise.
Much like Henrik Ibsen's An Enemy of the People, Vinterberg's film chronicles how an innocent but proud man is subjected to the tyranny of those all too willing to be convinced of the worst. "I believe the children. They never lie," says the craven headmistress at the childcare center. Her manipulative questioning of the toddlers in her care betrays a need to see the worst in everyone — a trait that makes her an unpopular employer but a righteous voice for a community consumed with mistrust and vengeance.
Vinterberg, who made a splash in 1998 with his dogma-inspired The Celebration (another film focused on sexual abuse — albeit in a satirical manner), comes from the school of thought that believes every film must torture its protagonist (mentally and physically) with as much cruelty as possible.
That he handles Lucas' queasy situation with such compassion and subtlety — while never tipping the story into melodrama — is a testament to his skills as a filmmaker and dramatist.
Working with co-writer Tobias Lindholm (A Hijacking), he constructs The Hunt's moral drama with both intelligence and suspense, demonstrating a clear concern for the mistakes his conflicted characters keep making.
Of course, it helps that his tale is abetted by Mikkelsen's beautiful performance. In the actor's hands, Lucas is the beleaguered everyman whose inherent decency is tested by one horrifying situation after another. Mikkelsen's portrait may be the most powerful I've seen all year, culminating in a riveting emotional standoff in the town's church. There, in a sanctuary that demands blind faith, Lucas dares even one neighbor to give him the benefit of the doubt.
Vinterberg's scathing conclusion is that people find it easier to embrace the unthinkably evil than find a path to a less sensationalistic truth. Once suspicion fills their hearts, the community is all too willing to close ranks and allow savagery to flourish.
The Hunt opens Friday, Aug. 16, at the Detroit Film Theatre, and is rated R with a running time of 115 minutes. It is in Danish with English subtitles. Watch the trailer here.