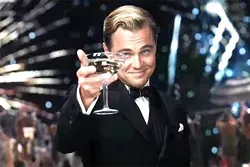 The Great Gatsby| C
The phony quest for the "Great American Novel" has been a tired cliché, long casually tossed around in coffee shops and at cocktail parties; a kind of snooty last shot fired at the rising new world by a defeated colonial power. There are many who would argue that F. Scott Fitzgerald's audacious, allegorical and gorgeously written tragedy settled that debate eight decades ago, but the search for a great film adaptation of Gatsby rages on; this callow, visually explosive 3-D glitter ball is not likely to resolve the issue.
Aussie Director Baz Luhrmann (Moulin Rouge, Romeo and Juliet) is famed for his extravagant, overheated tales of doomed romance, and for putting anachronistic modern spins on classic stories. He seemed an apt candidate to translate Fitzgerald's iconic, lovelorn epic of Jazz Age excess. At least, he was a good candidate on paper.
Luhrmann dutifully throws at the screen a cascade of polished chrome, marble staircases, overflowing Champagne flutes, slicked-down hairdos and leggy flappers, twirling and kicking about in orgiastic fury. All the CGI-assisted, 3-D sparkle is a wonder to behold, and for a short time it effectively distracts from the inert drama underneath.
That drama, about dirt-poor farm boy Jay Gatsby's reinvention as the toast of New York at the height of a decade of decadence, and his even swifter fall, has confounded filmmakers for generations. This is partly because Fitzgerald's dazzling prose is better than his plotting, and because the enigmatic charmer Gatsby remains a somewhat unknowable myth.
Tobey Maguire plays narrator Nick Carraway, Gatsby's buttoned-down, star-struck neighbor, and he struggles a bit with the role, just like everyone else who's tackled it before him. The bland Nick is inexorably drawn to the charismatic king of the castle next door, and to the glamour-soaked, wildly uninhibited bacchanals he's always throwing.
Lurhmann stages these galas like a David LaChapelle photo shoot run amok, and scores them with a pulsating mix of period jazz and an overemoted, bling-obsessed hip-hop soundtrack provided by Jay-Z. The music draws an obvious line from the Roaring Twenties to today, and, like every other concept here, the connection is underlined and spotlighted.
While there are few admirers of the 1974 version, Robert Redford slid very comfortably into the shoes of a golden god, whereas Leonardo DiCaprio makes every overenunciated syllable an adventure. Leo's artifice is intentional, because everything about Gatsby, from his immaculate wardrobe to his Long Island pleasure palace to his canary yellow sports car, is a put-on, designed to impress the love of his life, Nick's radiant and damaged cousin Daisy (a winning Carey Mulligan).
She wants to love him back just as hard, but deep down he'll always be a bootlegger and a con man, putting on airs, and his humble background will never be as respectable as her brutish patrician husband Tom (Joel Edgerton).
Luhrmann can never quite wrestle the book's weighty themes into an acceptable order, but even flawed, Gatsby still has charms. It is a chronicle of the 20th century's endless boom and bust cycle, when the nation careened from long spells of austerity to flights of giddy abandon.
Now it seems we have finally achieved Orwell's threatened state of perpetual war and ceaseless recession, an era where the whole country longs to return to the sort of celebratory overload that made the '80s such a neon-lit, coke-hazed nightmare.
Despite the internal sadness, the exterior Gatsby is still a fluttery alluring fantasy, even though we now know that depression and war are just around the corner. Escape is always desirable, and today's America is chomping at the bit for an excuse to party irresponsibly, but the ball just stubbornly refuses to drop.
The Great Gatsby is in theaters everywhere and is rated PG-13; running time is 143 minutes.