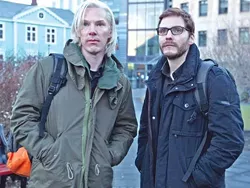 While watching The Fifth Estate's stylized visualizations of computer networks, one can't help but wonder how loudly future audiences will snicker at its already dated view of IRC sessions and data manipulation.
In an attempt to make the online world of Wikileaks more cinematic, text flies across the faces of hackers while endless rows of unmanned Matrix-like computer stations stand in for Julian Assange's anonymous army of virtual muckrakers.
Director Bill Condon (Dreamgirls, Twilight: Breaking Dawn I and II) marshals a variety of CGI gimmicks to jazz up a story that mistakes the message delivery system for the message. Unfortunately, no matter how elaborately he tricks out the shot, watching Hollywood actorstype on computer keyboards just isn't all that dramatic; even if they're typing really, really hard and really, really fast.
And that's not all that's wrong with this watchable but awkward mix of popcorn cyber thriller, political soapbox and personal drama. Instead of trying to explore the continuing debate over privacy, transparency and security through the story of one man, The Fifth Estate can't decide what kind of story it wants to tell.
Worse, it picks the wrong character to tell it. Instead of focusing on the guy we're really interested in —Julian Assange (played by Benedict Cumberpatch) —Condon and screenwriter Josh Singer level their crosshairs on the guy next to the guy. That would be bland but idealistic Daniel Domscheit-Berg (Daniel Brühl). Conveniently, Berg also wrote the book that the movie draws some of its material from.
The action kicks off in 2007, when Berg first encounters Assange at the Chaos Computer Club annual conference. Recognizing the white-haired Australian as a visionary, he quickly becomes a disciple to Assange's cause. Cutting back and forth through time, The Fifth Estate quickly makes it clear that it hopes to follow in The Social Network's footsteps, charting the rise and fall of another narcissistic genius.
From the underdog formation of Wikileaks, to Assange's reckless indifference to ethics, to Berg's personal struggles and nagging doubts, the narrative leaves no expositional cliché unturned. It all comes to a head in 2010, when U.S. Army private Bradley Manning provides Wikileaks with thousands of classified American intelligence documents.
But what should fuel a dramatic and ethical debate about the value and impacts of whistleblowers, instead becomes a petty tale of personal betrayal and, ultimately, rivalry. Though some of the revelations embedded in Manning's leak are shown —in particular, the killing of Iraqi war correspondents and ensuing cover up by U.S. troops —Wikileaks' quest for accountability is dealt with in only the broadest terms.
Even less is made of the media and the government's abilities to divert Americans' attentions away from Wikileak's most damning revelations and onto Assange's highly flawed character.
Yes, it's difficult to explore complex issues and even more complicated players in only a two-hour movie, but you get the sense that Condon and Co. aren't even trying. Assange and Berg are mostly subjected to buddy-movie plot points, where the starry-eyed idealist discovers that his brilliant mentor is an egotistical hypocrite, thus compromising both his love life and integrity.
This kind of reductive storytelling actually undermines issues that deserve greater dramatic depth and scrutiny.
Luckily, Condon has Benedict Cumberpatch to storm through his film, demonstrating what makes Assange such a contradictory and charismatic figure. While his mission —government and corporate accountability and transparency —is undeniably noble, he is far less than a saint.
Indeed, as Cumberpatch plays him, he's a wicked stew of oily ambition, smug genius and uncompromising self-righteousness. These qualities play right into the actor's repertoire, wherein he portrays yet another misanthropic genius. Still, it's a masterclass inline delivery and character impression.
Too bad the movie never scratches past the surface of neither who Assange is nor how his self-serving impulses compromised the importance of his work. We get tantalizing hints of his biography, but little context or exploration. And many of his worst traits are glossed over. It's as if Condon is content to simply and unquestioningly bask in his mysterious complexities.
At one point in the film, Berg asks: "How can someone talk for 15 minutes without saying anything?" The same could be said for The Fifth Estate. With a two-plus hour running time, it never makes the case that it has anything worthwhile to say.
The Fifth Estateis in theaters now and is rated R with a running time of 128 minutes.