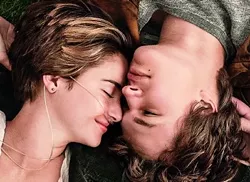 The Fault in Our Stars | B-
The good old-fashioned tearjerker is a Hollywood tradition stretching past the tear-soaked cheekbones of Debra Winger in Terms of Endearment to Ali McGraw in Love Story and all the way back to the flickering silent tragedies of Mary Pickford. One of the beautiful things about the movies is that every new generation gets to think that they invented the idea of being young and in love and hopelessly heartbroken.
So now we have a three-hankie melodrama for the Snapchat generation, with smart phone texts taking the place of messages in bottles, but with most of the genre's established tropes firmly in place. The Fault in Our Stars is a mostly successful of adaptation of John Green's popular young adult novel, a book that becomes an object of adoration not just for ninth graders, but booksellers. The book's devoted fans will swoon seeing their beloved favorites brought to life, and appreciate the attempt to mirror the warmth, honesty, and smarts of the prose, if not being fully aware of the standard-issue manipulation that they're being subjected to.
Quickly blooming starlet Shailene Woodley plays Hazel Grace Lancaster, a bright and fiercely independent Indiana 16-year-old determined to live each day normally despite the cancer that has permanently shriveled her lungs. As a reluctant participant in a church basement teen support group, Hazel falls hard for dashing 18-year-old Augustus Waters (Ansel Elgort), who remains robust, even after losing a leg to tumors. Gus is super cool, because he wears a brown leather jacket, has his own ride, and leaves an unlit cigarette dangling from his mouth, because he refuses to let the this killer instrument have power over him. Their attraction is immediate, but Hazel prefers to keep it on a platonic level, knowing that while they are in remission they are both only one bad oncology report away from heartache.
For a little while these two unbelievably wholesome Midwestern kids keep up the charade of just being friends, and proceed through all the regular "will they or won't they" machinations of other rom-coms, with occasional interruptions for chemo treatments and hospital stays. It is not all IVs and little cups of lime Jell-O; these are still teenagers, and the usual antics ensue, though with a slightly morbid twist. When their friend Isaac (Nat Wolff) loses his sight to tumor surgery, his shallow blond girlfriend dumps him, but our heroic lead couple responds by egging the hussy's car.
When not committing vandalism, our heroine is obsessed with a densely woven novel about a cancer patient, and begins trying to contact its reclusive author, who has gone into self-imposed exile in the Netherlands. One day, much to Hazel's shock, the writer responds to her, and even more shockingly, Gus arranges a trip to meet him with help from a charity organization. Chaperoned by Hazel's freewheeling but faintly whiny Mom (Laura Dern) our would-be lovers take an enchanted tour of the quaint Dutch capital. After a romantic dinner complete with Champagne and a comically obsequious waiter, things get real, when the kids actually get an audience with the mysterious novelist Van Houten (Willem Dafoe). In the film's most interesting scene, the scabrous, drunken hack tries to bully Hazel for wanting answers about his work, and wanting to know what happens to his characters after the final page. You can imagine her response. Shaken but unbowed, Hazel and Gus bounce back by declaring their love and engaging in a heavy makeout session in the middle of the Anne Frank Museum. Classy.
Once they get home, there are a few more tender moments before the grim realities of their respective conditions see the bottom fall out and the true emotional hooks of this doomed romance start to sink in. Josh Boone turns up the sweeping soundtrack and attempts to elicit maximum feeling from the maudlin proceedings. What impact he gets is largely due to the fine performances, particularly the incisive Woodley, who lacks some of Jennifer Lawrence's quirky humor and latent sensuality, but nearly matches her youthful rival in grace and intelligence.
The Fault in Our Stars is well-made, but mawkish entertainment that asks deep questions it only partly wants to grapple with; not that fans will care. The preview audience I saw it with was packed to the aisles with jittery tween girls who rattled the walls with their squeals of exaltation. You only fall in first love once.
The Fault in Our Stars is rated PG, runs 125 minutes and is in theaters now.