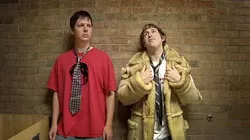 The Dirties | B+
Can an exuberantly creative social outcast also be a psychopathic narcissist? Unfortunately, yes. And Matt Johnson (the character, not the film's director-co-writer-actor) is a terrific example. A pop culture-obsessed geek, he and best friend Owen (Owen Williams) are making a revenge-fantasy movie about exacting violent payback on the high school bullies who torment Matt in real life.
Both his film and his oppressors are called "The Dirties," and Matt's barely acknowledged cameraman (a convention that allows Johnson's film to exploit his vérité motif), faithfully capture his and Owen's experiences as if they were stars in their own reality-TV show. They are making a movie that is also about making a movie that will ultimately be its own movie. Get it?
To many, turning your rage into a low-rent Tarantino-esque flick would seem like a creative way to channel some pretty negative emotions. But for Matt, the act of starring in his own movie becomes a statement of being. Everything he is becomes wrapped up in the act of filmmaking (a theme Charlie Kaufman struggled to explore in Synecdoche, New York) ¾so stopping the shoot is not an option.
At first, we are all-too-willing to play along because Matt is charismatic and entertaining. His ideas are a lot less brilliant than he believes, but he's a self-aware teenage outcast so we empathize with his hyperkinetic awkwardness. And his enthusiasm is infectious. But, like his friend Owen, we eventually grow wary of his relentless vision of how things are and should be. A weekend trip to Matt's cousin's place to shoot guns takes on an ominous edge, particularly when Matt insists "Just whiz one past my head." His earlier jokes about ending his movie with the actual shooting of school bullies doesn't seem so funny now.
Incrementally, Owen becomes uncomfortable with Matt's obsessively self-referential behavior. Their friendship takes a turn for the worse when Owen's interest in an attractive and popular classmate seems to be returned. Eventually, Matt is left to star in his movie alone. And still he keeps going. His self-infatuation is so complete that he can't help but revel in footage of himself in drag singing "Malkovich Malkovich," (an impressive feat of meta commentary).
The Dirtiesis both deceptive and effective in the way it builds to its dramatic payoff, navigating through a last act tonal shift that will inevitably unnerve audiences. While much of film is subversively amusing (though rarely laugh-out-loud funny), Johnson's depiction of high school bullying is disturbingly realistic ¾without ever crossing into hyperbole. Matt has a tendency to draw fire with his overt gracelessness. The ensuing harassment and assaults that he and Owen endure convey a persistently dystopic and emotionally oppressive environment.
Conceptually, however, I'm not sure how I feel about Johnson's "real-time" documentary conceits. If he is suggesting there is literally a camera-wielding character filming his every move (at various times he addresses the camera as if that were the case) it's a disappointingly uninspired stratagem.
However, if he is trying to suggest that Matt's delusions have been made manifest, that he is actually playing to the cameraman in his head (a much smarter choice), he fails to adequately hint at those intentions. The difference may seem minor in terms of execution but makes all the difference when considering the film's artistic sophistication. Either way, the choice is creepily effective at making the viewer complicit in Matt's action.
The winner of the Slamdance Film Festival's Grand Jury Prize, The Dirties is a timely and savvy film that overcomes its obvious budget limitations. It is also a chillingly honest depiction of how bullying can push a creative outsider into an act of horrifying brutality.
Shows at 7 p.m. Wednesday, April 17 at the Main Art Theatre, 118 N. Main St., Royal Oak; 248-542-5198), sponsored by the Royal Oak Film Society. Admission is $10 for nonmembers. The screening is part of a special "Slamdance on The Road" presentation. The director will attend and answer questions afterward.