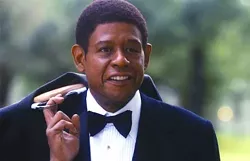 The Butler | B+
The portrayal of African Americans in a domestic capacity in cinema over the last 75 years has been a sensitive one to say the least. From Hattie McDaniel's Academy Award-winning role as a house servant in 1939's Gone with the Wind to actress Octavia Spencer receiving the same accolade playing a civil rights-era maid in The Help two years ago, debate continues on whether or not these subservient characters should even be depicted anymore. Lee Daniels' The Butler, an ambitious biopic detailing the life of a White House butler over the course of eight presidencies, proves that they should. While the film is far from flawless, it's one that takes pride in its narrative and succeeds in dignifying an occupation deemed stereotypical by some. With Oscar winner Forest Whitaker (The Last King of Scotland) fully embracing the project and an impressive ensemble cast that brings to life America's dark racist past, Lee Daniels' The Butler is significant.
Whitaker is at top form as Cecile Gaines, a character based on real-life White House butler Eugene Allen whose 34-year tenure at the White House saw him rise from a "pantry man" at the end of the Truman presidency to his retirement as maitre d' for President Ronald Regan. Daniels and screenwriter Danny Strong (HBO's Game Change) may take many creative liberties with Allen's story, but it's never lacking in heart. The script does skim across history at times, but the civil rights movement itself is incorporated extremely well and delivers the most powerful scenes of the film. As Cecile's militant son Louis, actor David Oyelowo (Lincoln) is especially noteworthy. The comeback of Oprah Winfrey to the big screen in a live-action film after 15 years (she plays Cecile's wife Gloria) might be attracting all the headlines, but it is Oyelowo's turn as an activist who butts heads with his father that deserves the most attention. One scene in particular where Louis and Cecile argue about the legitimacy of acclaimed actor Sidney Poitier will go down as one of the best of the year.
Emotionally effective and intensified strongly by issues of the era, Lee Daniels' The Butler benefits from its talent in front of the camera and Daniels' acceptance of what this film is not. It's not trying to be as impactful as something like Mississippi Burning or (ironically) In the Heat of the Night, but as a human-interest story with some of those elements, the material practically writes itself. mt
The Butler is playing in theaters now and is rated PG-13, with a running time of 132 minutes.
Kiko Martínez is a reviewer for our sister pub, San Antonio Current. Send comments to [email protected]