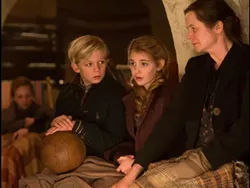 The Book Thief | C
Sometimes you can tell that a film is far too respectful to its source, even if you haven't read the novel. Take director Brian Percival's bland adaptation of Markus Zusak's best-selling The Book Thief. It's handsomely shot, very well-acted and remarkably dull. As screenwriter Michael Petroni dutifully marches Liesel (an impressive Sophie Nélisse), his tween protagonist, through illiteracy, an adopted mother and father, a budding romance with the boy next door, her 6-year-old brother's death, the mother who abandoned her, a vicious neighborhood bully, her friendship with a grieving baroness and the Jewish refugee hiding in the family's basement, you can't help but feel like something is missing — including a real feel for Nazi Germany.
It's not just because The Book Thief tries to cram so many mawkish plot threads into its two-hour running time that its many incidents lack weight, spontaneity or depth. It's because Percival and company botch the tone, unable to decide whether they are crafting a child's fable or an adult drama. Not nearly as ill-conceived as The Boy with the Striped Pajamas, director Percival takes the middle route by presenting a watchable but defiantly small-bore story set during a period of tragedy and trauma. Goose-stepping Germans and subjugated Jews become mere window dressing for a precious coming-of-age tale that vies with The Sound of Music for cinema's most superficial treatment of Nazi Germany. Only here, the story is far less hummable.
Kristallnacht, a book-burning rally, a surprise cellar inspection and Hitler's scorn for Jesse Owens are ticked off with an accountant's passion as John Williams' pushy score tries to sell the gravity of the situation. But the German streetscape where pretty, young Liesel lives with her kindly new papa (Geoffrey Rush) and stern new mama (Emily Watson) feels like a back-lot leftover. Worse, Percival and Petroni are so uninterested in Max (Ben Schnetzer), the Jew who hides in their basement for two years, that we learn almost nothing about him. He exists solely to inspire Liesel's blossoming interest in writing. Even his eventual fate is presented as a feel-good afterthought, without context or emotion.
Thankfully, newcomer Nélisse's performance is as charming as it is unaffected, while Rush and Watson effortlessly provide nuance and authenticity to otherwise shallow roles. Watching the veteran actors play off one another is a master class in chemistry and affection. But they deserve so much more. Their bickering couple feels like it was transported from a 1960s sitcom to Nazi Germany so that some warm-hearted shtick might soften the horrors of the Holocaust. It's emblematic of everything that's wrong with The Book Thief.
When Death is your narrator, your movie had better have some profound thing to say about the precariousness of life or, at the very least, display some satiric wit. Roger Allam (The Spider in Game of Thrones) gives his bodiless observations charm and bemused sophistication, but it's hard to see why the Grim Reaper would be drawn to Liesel's unspectacular life. Tragic as it may have been, there is little doubt that World War II was filled with millions of similar stories. And so the conceit plays like a vestigial remnant from the novel, never justifying Death's lovely last line: "I am haunted by human beings."
The Book Thief is currently playing. It is rated PG-13 and has a running time of 125 minutes.