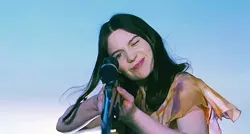 Stoker | B
No matter what the Hollywood vehicle, Mia Wasikowska always makes for good company during the ride. In Korean filmmaker Chan-Wook Park's moody American debut, the young actress plays India Stoker, an aloof yet keenly watchful teen mourning the death of her father while experiencing the first stirrings of an sexual awakening. Wasikowska brings startling depth and intensity to her character's brooding detachment, displaying an alien-like curiosity as she studies those around her like insects under a magnifying glass. And as India's surname implies, something dark and dangerous roils beneath her placid exterior, waiting to be stoked into an unpredictable conflagration.
This quiet heat contrasts dramatically with India's brittle and sexually frustrated mother Evelyn (a smoldering Nicole Kidman), a woman who is completely devoid of all maternal love and instinct. Their large rural Tennessee mansion provides a picturesque canvas for their long-simmering family resentment. Into this boiling cauldron of Southern gothic tension comes Uncle Charlie (Matthew Goode), the enigmatic and seductive younger brother of India's dead dad.
If the setup sounds vaguely familiar, it's not by coincidence. Alfred Hitchcock's 1943 thriller Shadow of a Doubt is none-too-subtly invoked in actor Wentworth Miller's (Prison Break) script. In that sexually subversive classic, Joseph Cotton played the charming Uncle Charlie, whose murderous agenda slowly came to light. Here, Goode's deviant smirk hides just as many dark secrets, as he slowly weaves a web of seduction, concealing from both mother and daughter what his real intentions are. Director Park has been celebrated for the twisted energy and inventive style he's brought to such Korean thrillers as Oldboy, Lady Vengeance and Sympathy for Mr. Vengeance. His work displays a wicked sense of humor and more than passing obsession with perversion, revenge and melodramatic family dynamics. With Stoker, he's composed a lurid and slow-burning fairy tale that's lavished with gorgeous transitions and claustrophobic close-ups. Park understands that film is a visual medium first and foremost and creates some stunning imagery. Kidman's hair becomes a field of waving grass, a spider crawls up Wasikowska's pale leg and under her skirt, the camera prowls the Stoker's ornate home like a voyeur. Even the music, a haunting soundtrack by Clint Mansell and a red-blooded piano duet by Philip Glass, serves his meticulously crafted fever dream.
In the end, however, it becomes clear that all that sight, sound, color and mood is being employed to keep you disoriented, make sure you overlook Miller's implausible script, in which characters behave without consistency or insight. Stoker may drip with juicy primal urges, suspense and demented behavior, but it offers very little logic or substance to soak up.mt