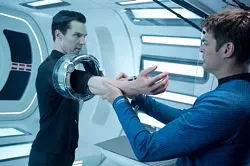 Star Trek into Darkness| Grade B+
The intrepid crew of the Starship Enterprise has been making the impossible look easy for nearly 50 years now, and the resilient franchise itself has had multiple miraculous comebacks from calamity, but not even mighty warp engines can manage to go forward and back simultaneously. Though epically entertaining, this follow-up to hotshot director J.J. Abrams' successful reinvigoration of the brand finds itself still anchored by the gravity of the past, even though the series has always been about charging boldly into the future.
The 2009 Star Trek felt momentous in many ways, mostly because it took huge chances: resetting the timeline, destroying Spock's home world Vulcan, re-imagining locales and alien races and tweaking certain crew relationships in intriguing ways. Oh, and all that lens flare! In contrast, the briskly paced Into Darkness offers precious little innovation (aside from adding seatbelts to the Enterprise!), and instead indulges in fits of nostalgia, homage and fan service, that both rewards and punishes the diehard trekkers for their internal databases.
The fun begins with an invigorating, and gorgeously rendered opening sequence that finds brash space jockey James T. Kirk (Chris Pine) and his talented team deviating from the plan on a routine survey mission of a primitive world, when the natives are threatened by a massive volcanic eruption.
The day is saved by Spock's emotionless bravery, the Capain's quick mind and a well-placed fusion bomb, but the hastily planned intervention violates Starfleet's cherished Prime Directive, which prevents meddling with less-developed cultures, and puts Kirk in hot water with the brass back on Earth. This leads to pointless scenes in which the maverick Jim is chewed out by his mentor, Admiral Pike (the sublime Bruce Greenwood), who threatens to break up the band, and to strip Kirk of his captaincy. Fortunately, this backtracking subplot is jettisoned after a string of devastating terrorist attacks on Starfleet Command Headquarters. The attack is determined to be an inside job, and the Enterprise is sent to chase after culprit, rouge agent John Harrison (Benedict Cumberbatch), and ordered to dispatch him with the mother of all drone strikes. The trouble is that the bad guy is hiding on the home planet of the feared Klingon Empire, and the intended stealth assault threatens to entangle the Federation in a larger war. It's still science fiction, but connections to real-world politics are clearly intended.
To reveal more would puncture the force field of secrecy Abrams has strictly maintained, and that the Internet has been intent on disintegrating. Suffice it to say that Cumberbatch's dastardly villain isn't quite whom he's supposed to be, and is deeply connected to Trek lore. Thanks to spoilers, the reveal of his true identity lacks the intended punch. The dizzying and occasionally heart-stopping action set pieces are all tied together by the eternal struggle between Mr. Spock's implacable cold logic, and the cocky Kirk's impulsive gut instincts. Fortunately the chemistry between Pine and Quinto is wonderful, and the emotional arc of their friendship carries the movie when the twists and big ideas fade out.
The rest of the fine crew, especially Simon Pegg's fussy tech genius Scotty and Zoe Saldana's confident and sassy Lt. Uhuru, get moments to really shine. As always, crotchety medic "Bones" McCoy (Karl Urban) gets all the best punch lines.
Alice Eve is also on board as Kirk's smart and sexy new foil Dr. Carol Marcus, and the fanboys will know her significance.
A bit too much of Into Darkness feels like an inside joke, with famous moments in Trek history inverted and restaged with a wink, and there are abundant nods. Case in point: costumer Michael Kaplan seems to have a curious affection for the drab gray getups worn in the original 1979 movie, and he keeps dressing the crew in variations of them when not in their iconic red, blue and gold uniforms. The retro theme is so extensive that the movie literally pauses to consult with the series history, as if asking permission to continue.
Abrams' moviemaking heroes, such as Lucas and Spielberg, were able to channel their many childhood influences, like comic books and matinee serials, and synthesize them into new and exciting variations. Abrams seems happier playing with the classic toys he's been given, before moving on to helm his true love, Star Wars. Star Trek was almost always done on the cheap, and here at last, the epic scale of the action and amazing quality of the visuals, plus the sheer fun of hanging with trusted friends, puts this entry light years ahead of most competing blockbusters, even if intellectually it never leaves space dock.
Director: JJ Abrams. Starring: Chris Pine, Zachary Quinto, Zoe Saldana, Simon Pegg, Alice Eve, Benedict Cumberbatch. Rated: PG-13. Running time: 132 minutes.