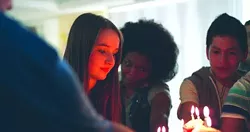 Short Term 12 | A
If we're lucky — if the tides are right and the winds are calm — we might get one or two movies a year as good as Short Term 12.
It's a far better movie, in fact, than the casual multiplex ticket buyer probably deserves: More intimate, intense, honest and deeply soulful than the vast majority of manufactured drivel that gets used to push popcorn and sodas on a weekly basis.
In a marvelous, star-making performance, Brie Larsen plays the wise and wounded Grace, a committed and skillful staffer at a short-term housing facility for abused and neglected kids that have no where else to go.
She is a calmly comforting presence: Untrained counselor, confidante, disciplinarian and friend to the hodge-podge of rejected, depressed and otherwise damaged teens residing inside the utilitarian complex's walls.
Grace is often more effective than the clinic's accredited therapists and management because she's closer to the kids' ages, spends more time with them and, because in sad ways that are gradually revealed to us, she sees herself in them.
The most obvious mirror yet for Grace arrives in the form of snarky proto-goth Jayden (Katlyn Dever), whose sarcastic posture is her last line of defense for a profoundly bruised psyche.
Thankfully, Grace has support from her co-worker and secret boyfriend Mason (The Newsroom's John Gallagher Jr.), who is a supportive and understanding partner on multiple levels. He's a profoundly good guy, too good for the inwardly hurting Grace to fully accept for herself, and the immense emotional effort of their work begins to wear on their relationship.
Together, they must decide if they can commit to each other and muster some more of the unconditional love and patience they daily exhaust on their charges.
This set-up does not make for sexy promo copy and it's not the sort of movie that is easy to entice your friends with simply by describing. In fact, it sounds like a real bummer. Yet, the genius of director Destin Cretton is in making every single moment feel real, heartfelt and well earned — where it all could have easily turned to mush. Cretton is unafraid to leave room for silence, and to give his actors space to get firmly behind their characters' eyes without ever forcing anything. Compassion takes time to bloom.
With its nondescript title, lack of bankable stars and low-key marketing, there is little to distinguish Short Term 12 from the box office competition, save for the volcanic, gushing praise from critics like me.
This is quiet, lovely, soul-stirring work, and as much as I love karate fighting robots and alien dinosaurs, this is the kind of thing that I still go to the movies hoping to find.
Short Term 12 is rated R, has a running time of 96 minutes and opens Sept. 20 on select screens.