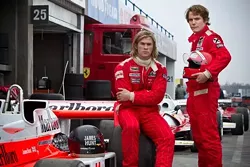 Rush | B
There is an underlying existential dread at the heart of any good racing movie, an elemental relationship between a man, a car and the fickle, winding track that could, at any moment, irrevocably alter a life. Ron Howard's impeccably crafted, technically masterful, and slightly numbing bit of Oscar-baiting drama is about that irresistible temptation to flirt with death at high speeds, and it is also about rivalry and compulsion, both for the drivers and, secretly, for the filmmaker.
At the center of the action is the fiercely competitive but mostly respectful competition between road aces James Hunt (Thor star Chris Hemsworth) and Niki Lauda (Daniel Brühl), whose battles dominated the Formula 1 circuit in the mid-'70s. British playboy Hunt is a reckless maverick with excessive courage and charisma to go with his flowing blond surfer locks and hunky frame. His relentless opponent is the spindlier and more intense Lauda, a fastidious, self-controlled perfectionist dedicated to getting maximum efficiency from his racecar and from himself. Their divergent styles inevitably make them clash, but their unyielding mutual ambition unites them in a way that others will never understand.
That's about the sum total of the story in Rush, everything else, from Hunt's hard partying lifestyle and failed, tawdry tabloid marriage to model Suzy Miller (Olivia Wilde) to Lauda's bouts with social anxiety and serious injuries, are merely buffer between the gorgeously staged race sequences. High-paid screenwriter Peter Morgan guns the engine, but he got more mileage out of sporting obsession in 2009's superior The Dammed United, and he got a bit more juice out of the unusual chemistry in his previous Oscar-nominated Ron Howard collaboration, Frost/Nixon.
Technically the film is on point, with laser-quick editing, frightening, CGI-assisted car crashes, and a pounding, immersive, bone-rattling soundtrack.
For all its scientific precision, though, the overly long movie can't escape a bit of creeping tedium, as the screeching tires and roaring carburetors blur into a deadening drone. There is also a sense of narrative wheel-spinning, as once the principal dichotomy is established, it's all a matter of repeating the painstaking details of their conflict ad nauseam, much like laps around the same course.
Howard, working with Danny Boyle's favored cinematographer Anthony Dod Mantle, has made perhaps his most visually arresting work in three decades behind the camera, pouring every hard-earned bit ofcraftsmanship into a gloriously re-created disco-era world soaked in golden sunset hues. Howard produces wildly successful but achingly mainstream product and here, and he seems to be directing like a guy with something to prove. Howard's directorial debut was 1977's Grand Theft Auto, and clearly the automotive motif suits his brand hard-charging, crowd-pleasing sentimentalism. Hardly a frame rolls by without reminding you that this is a prestige picture, and the strain of trying to be artful and entertaining is perhaps too much to bear.
While Hunt is the more romantic figure, it's clear that Howard more closely identifies with Lauda: the dedicated, professional nerd who simply outworks everyone.Rush certainly burns rubber, but the end result is admirable without being truly satisfying.
Rush is rated R, has a running time of 123 minutes, and is in theaters everywhere. Watch the trailer here.