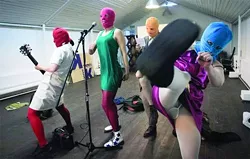 Pussy Riot: A Punk Prayer | A-
The Sex Pistols have nothing on Pussy Riot. While Johnny Rotten and co. changed the course of music with only one album and two years of live performances, all the Russian feminist art collective/punk band needed to make an impact was 40 seconds (and no album).
Unless you've been living under a rock for the last 16 months, you know the story: On February 21, 2012, members of Pussy Riot stormed the altar of Moscow's Cathedral of Christ the Savior and sang a self-penned punk anthem whose chorus borrowed the opening of Rachmaninoff's "Ave Maria" and loudly implored "Mother of God, drive Putin away." In less than a minute, church officials escorted them out and, days later, three of them were arrested: Nadia Tolokonnikova (whose father wrote the "It's God's shit" chorus), Maria Alyokhina, and Yekaterina Samutsevich. Denied bail, they were tried in a well-publicized case and, on August 17, 2012, were found guilty of hooliganism and religious hatred and sentenced to two years in a penal colony (Samutsevich was freed on probation basis after her lawyer argued she was stopped by officials before she could even get her guitar around her neck).
Amnesty International soon declared them prisoners of conscience, and Yoko Ono, Madonna, Paul McCartney, and many more rock and art stars spoke in their defense.
That's the part we all know. What Pussy Riot: A Punk Prayer, a fascinating documentary directed by Mike Lerner and Maxim Pozdorovkin that won a Special Jury Award for Punk Spirit at Sundance this year, shows is the gripping courtroom drama, the women's voices, and those of the people who put them in jail in the first place. Their accusers are thugs who proclaim themselves "the carriers of the cross" and a hypocritical government that justifies the artists' sentences on the grounds of "religious freedom" but won't lift a finger whenever a non-Christian religion is attacked.
The girls remain defiant to this day, and never took a step back. We see them sitting in court behind a glass cage surrounded by photographers and journalists, talking to each other and even mocking the press, some of which were the only supporters they had in ultra-conservative Russia.
"On the one hand, we now expect a guilty verdict," read Samutsevich in her closing statements during the trial. "Compared to the judicial machine, we are nobodies, and we have lost. On the other hand, we have won. Now the whole world sees that the criminal case against us has been fabricated." (A quick update: on May 21, Alyokhina started a hunger strike, claiming the guards at her prison had increased security ahead of her parole hearing, thus turning other inmates against her. She ended her strike on June 1, after her demands for reduced security had been met, and is said to be in "satisfactory" health, according to Agence France-Presse.)
Most of all, Pussy Riot reminds us that art is a force of change and true punk rock makes things difficult for oneself and, especially, the powers that be.
"Truth does triumph over deceit," said Tolokonnikova in her closing statement. "Pussy Riot is a form of oppositional art, political action that utilizes artistic forms. It is a form of civic activism against a corporate political system that uses its power against basic human rights. (…) We are freer than those who prosecute us. We can say whatever we want and we do say whatever we want. (…) This system fears the truth and sincerity that we represent. In conclusion, I would like to read the lyrics of a Pussy Riot song: Open all the doors/take off your uniforms/come and taste freedom with us!" mt
Pussy Riot: A Punk Prayer is currently airing on HBO. Check your local listings for air times and dates.
Enrique Lopetegui reviews films for our sister publication, San Antonio Current. Send comments to [email protected]