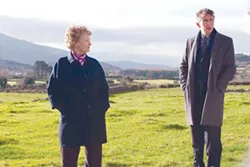 Philomena | B+
You can almost hear the pitch: He's an arrogant, upper-class journalist who's suspicious of religion and a master of snarky disdain. She's a simple old woman, devoutly Catholic and enamored with airport romance novels. Put them on a joint mission to find her long-lost son and watch the comedic sparks fly!
The odd-couple road movie is well-trod territory, so it's a welcome surprise to see it handled as intelligently, deftly and movingly as it is in Stephen Frears' Philomena.

Of course, it classes up your efforts if your leads are Steve Coogan and Judi Dench. They bring a dynamic mix of comic chemistry and poignant humanity to a heartwarming story that ends up revealing itself to be a complicated tale of loss, betrayal and forgiveness.

Adapted from Martin Sixsmith's The Lost Child of Philomena Lee, Coogan and Jeff Pope have fashioned a script that is defiantly (and thankfully) unsentimental. Philomena (Dench) is a sweet Irish granny who is haunted by the loss of her son. As a destitute teenager, she was forced by convent nuns to give up her beloved boy Anthony for adoption to wealthy Americans willing to pay top dollar. Over the years, she has struggled in vain to get the Catholic Church to give her some inkling of her son's fate.

A chance encounter with Martin Sixsmith (Coogan), a disgraced politico trying to reinvent himself as a journalist, finally offers her hope that information can be pried out of the tight-lipped clergy. Initially, he dismisses her tale as a mere "human interest story," the kind of exploitative writing he despises. Sixsmith's cynical editor, however, smells blood and convinces him to follow the lead.

This sets up Philomena's investigative backbone, a journey that takes the mismatched duo from the green hills of Ireland to Capitol Hill in Washington, D.C. To say the two are a sweet and salty juxtaposition of age, class and values would be underselling the prickly relationship that develops between them.

Sixsmith is a staunch and sardonic atheist who grows increasingly impatient with the church's lack of cooperation. Philomena is gentle and unpretentious, unshakable in her loyalty to her faith and without an ounce of bitterness over the injustices she's suffered.

Coogan is in his comfort zone, bringing a masterful mix of cynicism and condescension to his accidental muckraker. But this is somewhat new territory for Dench, who typically plays women of great authority and insight. Here, she has to dampen her innate savvy and accent to portray Philomena's quiet self-possession. The performance fades a bit when the script dwells on her chatty cluelessness, but is marvelously graceful when revealing her understated capacity for forgiveness, as in her final confrontation with the spite-withered Sister Hildegard.

And though the film never really bothers to examine her complexities — her attitudes about sex are particularly intriguing — Dench makes them abundantly clear. (Look for an Oscar nomination and, quite possibly, a win.)

Director Frears brings his typically tasteful and unfussy approach, allowing the emotion to creep out without ever overwhelming the moment. He relies on the actors to explore their relationships with honesty and patience, and the results are a rich blend of sadness and humor. But that same dogged unpretentiousness ends up weakening the film's final act. Instead of building to an emotionally resonant punch, its conclusion lacks urgency, muting its confrontations with a stiff-upper-lip reserve.

The final revelations — and a there are a few doozies — feel strangely anti-climactic. This only makes Alexandre Desplat's dreadfully on-the-nose score all the more insufferable. It clumsily underlines moments and reactions that are being played with casual subtlety.

Audiences will find Philomena a highly satisfying drama, flush with unexpected twists and a central relationship that is as entertaining as it is affecting. In presenting this dark stain on the Irish Catholic Church's past, the film inspires with the unfathomable forgiveness of its kind-hearted victim.

More amazingly, it condemns the Church's misdeeds without ever belittling members of its faith. But there is an uncomfortable irony in the way Frears, Coogan and Pope look down their noses at the underlying motives behind human interest stories, when their film displays the very same inclinations. It's hard to imagine that the real Philomena would approve of such sneering.
Philomena opens Friday, Nov. 29, and is rated PG-13 with a running time of 98 minutes.