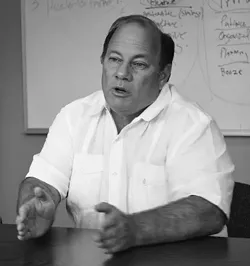 Only God Forgives | D-
Languid — to the point of stupor — Ryan Gosling perpetually stares far off into the distance throughout this hyper-gory art-house-noir pageant as if he's attempting to peer beyond the infinite; perhaps he's trying to gaze into some other, better film.
Only God Forgives is a somnambulistic walking tour through a surrealistic Bangkok hellscape, dripping in blood and sweat, and rendered in gloriously rich reds and blues so cool they may induce frostbite. As much as it is a masterpiece of production design and a triumph of technique, the movie is also an epically awful exercise in pretentious pseudo-intellectual claptrap, curiously devoid of likable characters, coherent plotting or any real meaning.
The usually intriguing Gosling takes his smoldering intensity to absurd lengths as Julian, a haunted, borderline sociopath hiding out from his painful past in Thailand, disguised as a kickboxing trainer, bar owner and occasional enforcer for his family's drug trafficking business.
When his even more unpleasant brother, Billy (Tom Burke), casually decides to murder a teenage prostitute, he is turned over to Police Chief Chang (Vithaya Pansingarm) — a pitiless avenging angel who dispenses brutal justice with robotic efficiency. Chang's solution is to allow the girl's father into the fresh crime scene where he is invited to bash in Billy's skull with a bat.
When grieving daddy does exact his bloody vengeance, Chang promptly and ruthlessly punishes the man for letting his daughter slide into debauchery to begin with. Both Chang and Julian maintain the same stoic expressions, whether hacking people to pieces with swords or singing karaoke. Indeed, these creeps have an eerie tendency to stand completely still, like they are posing for invisible Civil War photographers.
The only actor allowed to breathe is Kristin Scott Thomas as Crystal, Julian's reprehensible mother, and the head of this mini-crime syndicate, who briefly jolts the sleepy picture into life.
She smokes like a Krakow chimney and swears like a merchant marine. She hurls racial slurs, uncharitably compares her children's penis sizes, and charmingly refers to Julian's hooker, pseudo-girlfriend as a "cum dumpster."
With no one to really relate to or care about, and nothing fresh to say about the nature of violence, the film just drifts along through increasingly longer, pointlessly pretty takes; then into more scenes of torture, mayhem, and dismembered limbs — all set to a droning synthesizer.
Danish director Nicholas Winding Refn has swiftly established himself as the most polarizing waste of early promise since Adrian Lyne, though with this excessively vapid entry, he's edging into Lars von Trier territory — a desolate island where most critics refuse to take your work seriously anymore.
His previous collaboration with Gosling was the highly contentious Drive, an aggressively stylish film that gets a little worse with each repeated viewing. It is difficult to imagine the black mood that would induce one to sit through this particular unholy mess more than once. The only forgiving aspect of this ponderous artistic misfire is its running time, which is a surprisingly merciful 90 minutes.
Only God Forgives is currently in theaters and is rated R with a running time of 90 minutes.