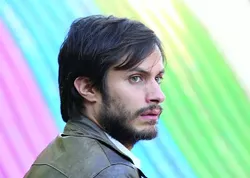 No | B+
Opposed to political killings? Well, there's a jingle for that. Or so goes the thinking of advertising executive René Saavedra (Gael García Bernal). It's 1988 and the Pinochet government is under international pressure to hold a referendum on its ultra-right-wing police state rule. For 15 years, the generalissimo has ruled Chile with an iron fist, suspending the constitution, arresting unionists, beating the media into submission and disappearing his political critics and rivals. The campaign for re-election begins. "Sí" means continued rule, "No" means the re-establishment of democracy. But can a free election really be held in a country living under martial law?
Apparently it can if there's a slick and savvy ad campaign in the works. Saavedra is a south of the border Don Draper, known for his cutting-edge TV spots. He's estranged from his anti-Pinochet activist wife (Antonia Zegers), a doting dad to his young son, and eager to show up his boss Lucha (Alfredo Castro), who has been hired to run the government's "Yes" campaign. At the urging of a leftist politician, Saavedra takes the helm of the "No" campaign, where he decides to circumnavigate the campaign's strict electioneering rules by creating an infectiously upbeat jingle to sell his political product. Despite police harassment and the inevitable dirty tricks, "No me gusta. ¡No!" becomes the song Chile just can't get out of its head.
The third film in director Pablo Larraín's political trilogy, No is a fast-paced and engrossing farce that expertly mixes personal drama with sharp-tongued wisecracks, cheesy neon-colored commercials, and sardonic observations. Screenwriter Pedro Peirano adapted Antonio Skármeta's stageplay for the screen, and though I have no idea what he started with, the results are a bitter and knowing meditation on media manipulation and political subversion.
No works best when it's in the thick of the campaign, taking us backstage as ad agency execs kiss the asses of generals even as they plot their political demise. García keeps all the balls in the air, with his cool-as-a-cuke adman maneuvering around rocky emotional terrain. He and Castro make great professional rivals, pitting the experienced mentor's confident reserve against the upstart's brash charisma. The ending may be a bit of a dramatic letdown but the journey getting there is remarkably engaging.
Larraín's most ingenious choice, however, is a technical one. He and cinematographer Sergio Armstrong have shot No using 1980s video technology, seamlessly blending their newly shot narrative with archival footage. Red and green ghosting frames their images, the aspect ratio is square rather than widescreen, and the quasi-documentary video footage feels defiantly antiquated. Yet within the context of Larraín's bitterly funny approach, it wonderfully evokes the story's time and place, grounding his farce with period authenticity.
Though it seems ridiculous even as a write it, No may be the first film I've ever seen that seems equally informed by political dramatists like Gillo Pontecorvo or Costa-Gavras as well as feel-good entertainer Frank Capra. Though this 2012 Oscar nominee didn't bring home the statue, it should be a "Yes" on your cinematic to-do list.mt