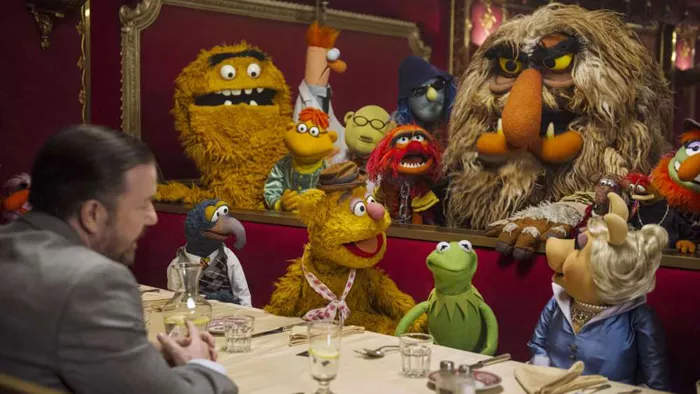 Muppets Most Wanted | B
After years in the show biz wilderness and a mostly successful relaunch in 2011, the Muppets return once again with a back-to-basics approach: more songs, more gags, more celebrity cameos and just a smidge less hugging and learning. As some of Generation X's most cherished nostalgia objects, the burden of maintaining Jim Henson's famous creations is a sacred responsibility, and for the bean counters at Disney, it's just one more reliable stream of revenue. Jason Segel, with his infectious, cheerful earnestness has stepped aside, but the rest of the creative brain trust from the last entry, writers James Bobbin and Nicholas Stoller, and songsmith Bret McKenzie, do a very credible though perhaps slightly uninspired job of buffing the legacy.
The plot involves the hoary "evil twin" trope, with our swampy pal Kermit having his identity stolen by Constantine (with Russkie accent by Matt Vogel), the "world's most dangerous frog," who plans to use the Muppets' European tour as a cover for a string of elaborate heists. Helping secure this nefarious plan is the talent agent bluntly named Dominic Badguy (Ricky Gervais), who has ambitions of his own, but must "dance, monkey, dance" for the nefarious amphibian. Elsewhere the real Kermie is rotting away in a Russian gulag, run by Tina Fey as a warden who has secret crush on old froggy, and has a soft spot for musical production numbers.
Also on hand is arch-conservative Sam the Eagle, now sporting an FBI badge and amusingly paired with Ty Burrell, as a various Clouseau-like Interpol agent. The creaky Eurotrash gags about Burell's teeny espresso cup, tinnier automobile and oversized vacation schedule are hackneyed yet still charming. This could be said for the whole cheeky formula, which relies on corny puns, vaudeville razzle-dazzle and a healthy dose of self-aware mockery — as when the gang belts a tune about happily selling out called "We're Doing a Sequel." Flight of the Conchords' silly hipster McKenzie turns in a soundtrack full of simplified, snappy tunes that might not join the pantheon with "Rainbow Connection," but get the job done. The current generation of Muppeteers, led by Steve Whitmire as Kermit, are adept at all the silly voices and comic beats but fall a bit flatter in the heartfelt stuff, but Henson, Frank Oz and the original cast's genius mix of warmth, playful wit and utterly natural humanism is difficult to replicate without seeming forced.
Yes, the movie runs on longer than very little kids will probably be willing to sit through, and this revival tour may no longer feel as "fresh," but the simple joy of Muppet-mania is intact, and still hard to resist.
Muppets Most Wanted is Rated PG with a running time of 112 minutes and is in theaters Friday.