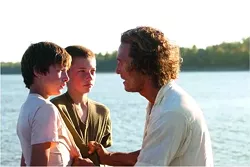 Mud | A-
If Mud isn't the best movie of this young year, it's certainly the most instantly satisfying. Described by some as the best American movie at the most recent Cannes Film Festival, the drama by director-writer Jeff Nichols is getting a well-deserved wide release and is in theaters now.
Nichols follows up his captivatingly moody Take Shelter with this little gem about love, loyalty, revenge and redemption. It's both a clinging-to-the-past story and a coming-of-age one, filled with societal nuances and a cultural honesty on par with such Southern films as Sling Blade and Beasts of the Southern Wild.
Matthew McConaughey, in the performance of his career, plays the title character, a drifter looking to simultaneously escape his criminal past and reunite with the love of his life (Reese Witherspoon), all while hiding out on an island in the Mississippi River. Helping him are two young boys in the tradition of Huck Finn and Tom Sawyer, played brilliantly by future superstars Tye Sheridan and Jacob Lofland.
Eschewing stereotypes and predictability, Mud instead digs deep into the emotional mine of family life and childhood. Particularly powerful is Sheridan's character's relationship with his father, played effectively by Ray McKinnon. Nichols clearly wants to portray love between father and son while also capturing the painful honesty and regret that can sometimes accompany the breakdown of a family going through a divorce. For instance, feeling totally helpless as a father and husband, McKinnon's character tells his son, heartbreakingly, "I don't care what you do." But we don't hate him for that. We just know life is wearing him down.
The depth of characterization doesn't stop with the principals. Sarah Paulson, as the mother, is effective, as is Witherspoon and the always-intriguing (though underused) Michael Shannon, who has now appeared in all three of Nichols' feature films. Most memorable among the lesser players is Sam Shepard, whom young Sheridan's character calls a "worn-out old man" in one of the film's many bits of beautiful but brutal dialogue.
Though the screenplay and cast are pitch perfect, the movie itself isn't. It's a bit too long, and the finale seems a bit forced, but Nichols gets so many things dead right that any complaints fade to minor quibbles. Heck, even a subplot involving a group of ruthless men out for vengeanceseems to fit.
I confess: I've never cared much for McConaughey. But sometimes a role comes along that makes you re-evaluate an actor you've seen for years. After seeing McConaughey's humor, tenderness and vulnerability in Mud, count me a fan. mt
Cameron Meier reviews films for our sister publication, Orlando Weekly. Mudis in theaters now. This film is rated PG-13; running time is 130 minutes.