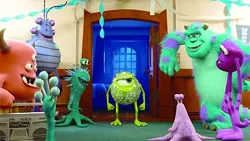 Monsters University | B
Candy-colored abominations frolic through realistic backdrops and crack wise while secretly learning valuable life lessons, all while a sprightly Randy Newman score blares on the soundtrack; this is pretty much the formula that has guided Pixar to the mountaintop of big screen animation.
This amiable and totally disposable sequel is nowhere near the summit of the company's greatness, but is firmly in the middle of its output, which is not such a horrible place to dwell.
Monstrous best pals Mike Sekowsky (Billy Crystal) and James "Sully" Sullivan (John Goodman) are back, way back, in an origin-story flashback — to the formation of their friendship.
Where the original movie cleverly milked laughs by portraying "the things that go bump in the night" as nothing but blue-collar working stiffs doing their jobs, this time the tropes of hard-partying college comedies get a spin and wash. We now get a family-friendly glimpse at all the pledge rushes, pep rallies, raging keggers and other campus high jinks — except the students are all cuddly little nightmare machines.
It's a real Animal House, where the residents actually do resemble animals, or at least all sport fangs, tentacles or other beastly appendages.
The various college stereotypes are represented in ghoulish form: jocks, burnouts, freaks, goths, etc. Despite their best efforts, Mike and Sully end up in the outcast "dweeb" frat, where they meet a collection of marketable new fiends, like a pale, hopelessly clumsy ball of goo, appropriately called "Squishy."
The script runs the paces through all the familiar plot points: A relentlessly driven, goofy-looking Mike fears he'll never be scary enough; easygoing Sully struggles to live up to his family's prestigious legacy.
Meanwhile, the jocks are working hard to get the misfit frat house expelled. You've seen these scenarios before, but the mild tweaking they receive, and the jubilant marching band-inspired soundtrack, are enough to keep kids enthralled and parents amused.
2001's Monsters, Inc. is a well remembered hit, but apparently wasn't as huge a blockbuster as Toy Story or Cars, which have both received sequels (plus the coming spin-off, Planes) in the decade between Monster installments.
Pixar's chief visionary, Phil Lassiter, has long claimed an aversion to sequels, unless they had a compelling narrative reason to exist. As a prequel, Monsters University has a less compelling claim to relevance, but if it is more obviously a market-driven consumer product, so are Legos and Snickers bars, and lots of other things that make people smile.
Monsters Universityis now playing and is rated G with a running time of 95 minutes.