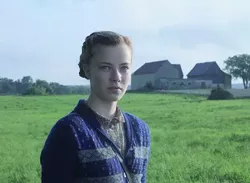 Lore | B+
It's the final days of World War II. Germany is in the hands of its enemies, and the Nazis are either fleeing their homes or doing their best to hide any evidence that they were part of Hitler's regime. Some have abandoned their children, leaving them to wander the war-torn streets. This is the situation the pampered teenage Lore (Saskia Rosendahl) — short for Hannelore — suddenly finds herself in. Her father has burned his personal records, shot the family dog, and fled. Learning of his arrest, her mother has gone to join him. Lore is left to care for her four young siblings — one an infant — alone. Shunned by the neighbors because her father was a member of the SS and quickly running out of provisions, she decides that the family must set out on foot for her grandmother's home in Hamburg. It is a long and harrowing trek, during which the children encounter dangers they never could have imagined. Starvation, rape and death lurk among the occupied ruins. But it's a young Jewish man they meet along the road, Thomas, who unsettles Lore most. Though she is innocent of her parent's crimes, the young teen has assimilated much of their prejudices and hatred. This sets up a fascinating conundrum for Lore: Though she despises Thomas, she recognizes that he is her best hope for survival.
Australian director Cate Shortland's intimate childhood fable is a vividly evocative journey into the dark heart of humanity that contrasts its confused young protagonist against Germany's wild and defeated landscape. The path to grandma's house runs through a lush wilderness, where fronds dance in the wind and brutality skulks in the shadows of battle-scarred towns. Shortland's camera gets in so close to her ferociously determined lead that you can almost hear Lore's thoughts as she struggles to orient her feelings. Cinematographer Adam Arkapaw (Animal Kingdom) composes gorgeously impressionistic images that echo the teen's moral dislocation, almost turning the film into an homage to '70s new wave affectations.
For some, this tendency to favor poetic imagery over plot development or thematic exploration could be a turnoff. Lore's narrative is undeniable episodic and dramatically sparse. But Rosendahl's character (and performance) is so perfectly balanced between innocence and disgrace that you can't help but be drawn into her dilemmas. She is a compelling and infuriating central character, one you hope will evolve beyond the darkness of her upbringing but can never be certain of.
Thankfully, Shortland makes no judgments about any of her characters and is ruthlessly unsentimental in her depictions of violence, suffering and denial. Her angst-haunted film delivers a complicated vision of the costs and guilt of war, and how the actions of the Third Reich will test Germany's character for generations to come. Can we spare some sympathy or hope for the children of villains, even if they too show signs of their parents' evil? Lore provides no easy answers. mt
Opens Friday, March 8, at the Landmark Main Art Theatre, 118 N. Main St., Royal Oak; 248-263-2111.