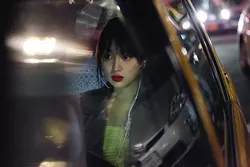 Like Someone in Love | C+
Since being exiled from his home, Iranian filmmaker Abbas Kiarostami has moved away from his simple yet insightful examinations of Iranian family and culture into a career in nondescript world cinema. It's a surprising and somewhat disappointing shift for an artist whose short list of indigenous work inspired several books and numerous essays of critical praise. In the decade since 1999's The Wind Will Carry Us, Kiarostami's output was limited to short films. His 2010 return to features was Certified Copy, a European meta-romantic-drama set in Tuscany. It starred Juliet Binoche as an art gallery owner who falls in love with British opera singer William Shimell. Though smart and well-crafted, it was an unexpectedly slight film from such a well-regarded talent.
Kiarostami has hopped across the globe to Japan for his latest, Like Someone in Love, and the results are less encouraging. Directing an all-Japanese cast, his enigmatically minimalist drama is impeccably cast and seems to return to his slice-of-life style but never delivers — dramatically, intellectually, or emotionally — on its premise.
Akiko (Rin Takanashi) is an impassive young woman working her way through college as a Tokyo prostitute. Assigned to a new client in the suburbs, she meets Takashi, a shy widower and retired college professor (81-year-old stage actor Tadashi Okuno) who seems more interested in company than sex. When the two travel into town the next day, they run into Noriaki (Ryo Kase), Akiko's angry boyfriend (he doesn't know what she does for a living). Pretending to be her grandfather to help her out of a volatile situation, Takashi finds that he rather likes his new role. Thus begins a too-comfortable masquerade that takes on a this-then-that approach to storytelling … until Kiarostami's frustratingly abrupt ending (which reportedly drew boos at Cannes).
There are some rewards to be found in Like Someone in Love, mostly via Kiarostami's trademark themes of identity and role-playing. He offers a realistic if occasionally tedious view of how three different approaches to love can come into conflict with one another. And as a craftsman, his austere yet artful approach — characters are framed as reflections in windshields and television screens — takes canny advantage of Tokyo's neon-lit landscape.
But none of it is compelling or satisfying. Too many ironies remain unexplored and, though he shows great empathy for his characters, we never arrive at any understanding of who they really are. Like Someone in Love mostly demonstrates how accidental and incidental the happenings in life are, and how even our most casual deceits can have unintended consequences. It may be the truth, but it's not an especially interesting truth. mt
Now playing at the Birmingham 8, 211 S. Woodward Ave., Birmingham; 248-644-3456.