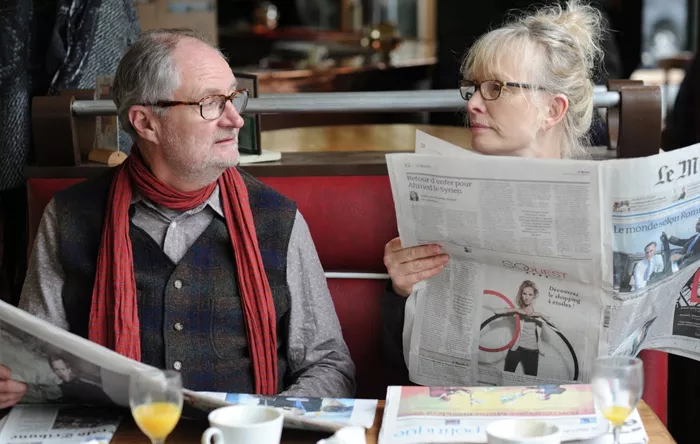 Le Week-End | C+

There is really only one reason to go out of your way to catch Le Week-End: Jeff Goldblum. Seen far too seldom in Hollywood films anymore, the gangly yet graceful actor brings a uniquely manic intensity to his performances. With stammering, off-kilter line deliveries, dancing facial expressions and questions that seem to put his co-stars on the spot, he can enliven even the most insufferable of scripts.
Which isn't to say that this third collaboration between director Roger Michell (Notting Hill, Changing Lanes) and novelist-playwright Hanif Kureishi (My Beautiful Laundrette, Sammy and Rosie Get Laid) is poorly written, but it is meandering and overcomposed. As with their previous two efforts — The Mother (2003) and Venus (2006) — the focus is on aging and the way it affects love. Goldblum is merely a supporting player, but he injects so much neurotic energy and narcissistic candor to his role that you wish Kureishi had imagined more ways to involve him in what the movie passes off for a plot.
Instead we spend most of our time with Meg (Lindsay Duncan) and Nick (Jim Broadbent), who have come to Paris in order to reinvigorate their fading marriage. As expected, things kick off with financial bickering and cultural miscues as trivial arguments reveal decades of frustration and resentment. Nick, a college lecturer, is being pushed out of his job for a racially insensitive remark and Meg has become restless, no longer willing to pretend to be attracted to her irresponsible husband. With a son who leans too heavily on their support, a sex life on the skids, and a lifetime of career disappointments, only a shared sense of history and humor seems to hold the couple together. Even a five-star joint on the Champs-Élysées can't save their relationship. Just when there doesn't seem to be anywhere else to go, the two bump into Morgan (Goldblum), a former colleague of Nick's who has found incredible success and is having a child with his much younger wife. Invited to a dinner party celebrating Morgan's latest academic publication, the couple's marriage ends up being tested in ways they never expected.
Some critics are calling Le Week-End the Before Midnight for the senior set. Unfortunately, it has none of the personal specificity and spontaneous honesty of the Linklater-Delpy-Hawke films. There are undeniably tart and truthful moments, but the film still feels very much like a construct, laying out its arguments with both contrivance and panache. The love-hate wrestling match becomes repetitive, the couple's mission to skip out on restaurant and hotel bills is overplayed, and Broadbent's tell-it-like-it-is climactic confession — though at times clever –— suffers from the belief that an overwritten but heartfelt dinner toast (are those still a thing?) can right the ship of any relationship taking on the waters of discontent.
Michell brings a breezy, disjointed rhythm that hides some of Kureishi's pretensions, and the City of Lights looks as romantic as ever, offering a nice counterpoint to Nick and Meg's disillusioned, fading romance. But there's little in the way of dramatic fireworks or intimate epiphanies. The emotional messiness is just too schematic and neat, suggesting theatrical rather than real-world inspirations.
That said, Broadbent and Duncan deepen every overly crafted exchange with an abrasive naturalism that defies caricature. Though the setup is as hokey as can be, Duncan actually convinces us that an offer to be unfaithful to her husband is worthy of serious contemplation. Similarly, Broadbent's prickly and petty sense of emasculation seems hard won … or lost, as the case may be. The two make a magnificently ornery couple.
For audiences of a certain age, Le Week-End will be greeted with knowing appreciation and the belief that the movie has a lot more to say about the twilight of romance than it actually does. For me, an impromptu bit of choreography inspired by the Madison dance from Godard's 1964 Band of Outsiders provides a few joyful moments as Goldblum's showboat of a character cuts the rug with his co-stars. It's a scene almost worth waiting for.
Le Week-End opens Friday, March 21, at the Maple Theater. It's rated R and has a running time of 93 minutes.