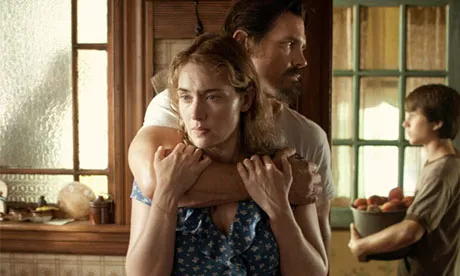 Labor Day | C
It's not easy for a movie to be simultaneously florid and flavorless, but Jason Reitman's Labor Day succeeds. Based on Joyce Maynard's 2009 lady novel, it stars Kate Winslet as Adele, a depressed single mother, nominally raising her soulfully earnest teenage son, Henry (newcomer Gattlin Griffith).
On a rare trip into town, Adele and Henry are taken hostage by Frank Chambers (Josh Brolin), an escaped killer with a gut wound. He forces them to take him to their New England home, where he quickly changes his mind about holding them captive. Instead, this saintliest of kidnappers does a few home repairs, changes Adele's oil, teaches Henry to play catch and, in the movie's most groan-worthy scene, bakes a helluva peach pie. But not before inviting his insta-family to put its hands into the bowl to mix the filling.
Reitman's cinematographer, Eric Steelberg, shoots every scene in sensual, sun-dappled yellows and oranges, turning a movie set in '87 into a Rockwellian homage to the '40s. But Labor Day never rises above its Lifetime Network sob-porn aspirations, which makes the first-rate cast's involvement all the more perplexing. It's hard to imagine what kind of movie they thought they were signing on for. Certainly not the acid-tinged sentimentalism that Reitman brought to Thank You for Smoking, Young Adult or Up in the Air.
Brolin tries to give his magical fugitive an underlying sense of menace, but the film downplays that vibe in favor of cuddly manliness. Winslet seems one lip-twitch away from a complete nervous breakdown, and Rolfe Kent's surging score underlines all of their emotions — in case you're unsure of how you should feel about any given scene. Only Griffith impresses, offering up an authentically awkward adolescent struggling to understand the world around him.
Worse, Labor Day indulges in that most hackneyed of ploys — withholding important information about a character's history for no other reason than to reveal it in the final act. Flashbacks of Frank's past are strategically placed along the way in order to exonerate him just in time for the climax.
And what the film ultimately has to say about the fairer sex — they're either conniving and manipulative or weak and needy — is pretty lamentable. This is a surprise, given that Reitman's past work has embraced prickly, independent-minded women. Why he would jettison that track record in favor of such maudlin claptrap is a mystery.
With its well-tended themes of romantic reawakening and familial longing, Labor Day is certainly watchable, and its last half hour has a few affecting moments, but without the barest hint of irony, the entire enterprise amounts to a whole lot of misguided hooey. If you're looking for a good romantic drama, why not revisit The Bridges of Madison County instead?
Labor Day is rated PG-13, has a run time of 111 minutes, and opens Jan. 31.