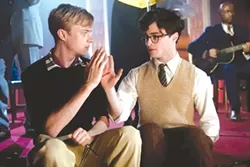 Kill Your Darlings | B
Director John Krokidas and his screenwriting partner Austin Bunn made a savvy choice in their decision to bring the story of Allen Ginsberg, Jack Kerouac and William S. Burroughs to the screen. Understanding that an appreciation and knowledge of the Beats can be self-limiting in terms of box office (such recent efforts as On the Road and Howl struggled to find audiences), they have not only assembled an impressive roster of young actors — led by Daniel Radcliffe — but focused the narrative on a little-known true-crime drama that happened before these alternative literary heroes had published a word. It's the story of the Beats before they were the Beats, and requires no particular knowledge of their work.
We meet Ginsberg (Radcliffe) as a shy New Jersey kid desperate to escape the tense claustrophobia of a home held hostage by his mentally unstable mother (Jennifer Jason Leigh). Accepted to Columbia University in New York City, Ginsberg arrives as a starry-eyed freshman with dreams of becoming a writer. He quickly becomes enamored with Lucien Carr (Dane DeHaan), a charismatic and showy provocateur whose friends include Burroughs (Ben Foster) and Kerouac (Boardwalk Empire's Jack Huston). A self-professed rebel and lover of William Butler Yeats, Carr becomes the ringleader for the students' revolt against the Ivy League school's stodgy view of society and education. He is also the unhealthy obsession of David Kammerer (Michael C. Hall), a former professor and Carr's lover.
Jazz, alcohol, drugs and, of course, homosexual tensions electrify Ginsberg's newfound independence as he's pulled into philosophical debates, quote duels and rebellious acts against the university. This last bit provides Krokidas with his best set piece: the theft of a key and the sabotage of the library's display cases, which he stages as a crackerjack heist sequence.
The smug narcissism of the characters would almost be too much to bear if it didn't ring so true. These are icons in their formative years, wrestling with inspiration and liberation, but not yet in possession of the tools that will hone their artistic expression.
Of course, at the heart of everything, is the gay love triangle that forms between naive Ginsberg, jealous Kammerer and Carr, with his unrequited affections. It all comes to a head when Carr kills his stalking ex-lover in a fit of frustrated rage. This becomes the dramatic core of Kill Your Darlings' unfocused narrative, one that unfortunately is given away in the film's opening moments.
Strangely, the murder also incites Krokidas to overplay his otherwise clever, if at times emphatic, direction. Pushed to heights of self-conscious audacity, he shapes Kammerer's death as a metaphorical kaleidoscope centered on penetration. Ginsberg has gay sex for the first time, Burroughs shoots up and Carr stabs his stalker again and again. It's all a bit purple.
On the other hand, Krokidas proves himself a cunningly inventive filmmaker, making a shoestring production look 10 times its budget. The period flourishes, vintage energy, well-chosen locations and jazzy pace all come beautifully together, with Nico Muhly's contemporary score and typewriter key rhythms polishing the rough spots to a high sheen.
Krokidas' ensemble — which also includes David Cross, Elizabeth Olsen and John Cullen in bit parts — is top-notch. Radcliffe and DeHaan have palpable chemistry, with the latter's charisma recalling the shine of early-career Leonardo DiCaprio, and Foster is a blast as the dry but twitchy Burroughs. There isn't a flat performance in the bunch.
What Kill Your Darlings misses, however, is the opportunity to better fold in the real-life events that took place during and after Kammerer's murder. Kerouac and Burroughs, present at the time and arrested as accessories, would eventually collaborate on a novel chronicling the incident, called And the Hippos Were Boiled in Their Tanks.
Their account, which notes the anti-gay sentiments that allowed Carr to claim self-defense, wasn't published until 2008 — 63 years after the event. Exploring how the killing impacted their relationship, ended their innocence and activated their work might have provided a stronger contextual frame for a film that struggles to provide more than an intriguing footnote to these writers' celebrated careers. mt
Kill Your Darlings opens Nov. 22, is rated R and has running time of 104 minutes.