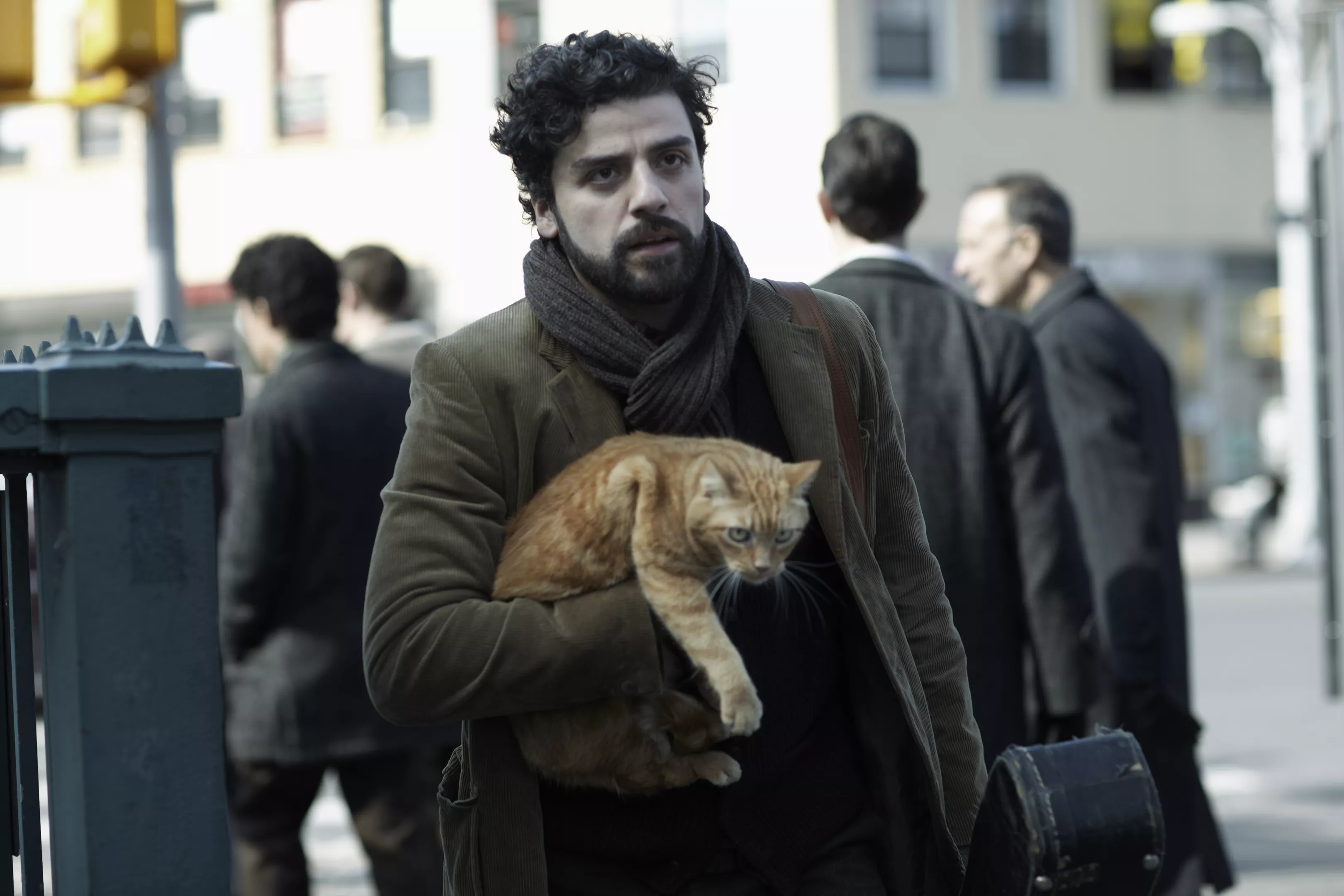 Inside Llewyn Davis | A
A cold, cruel wind cuts through every frame of this brilliant, mysterious and lyrical black comedy, and the chill comes not just from the film's wintry Manhattan wonderland, but from the ever-bleaker worldview of Joel and Ethan Coen. While there has always been a theme of chaos and existential indifference running through the brothers' work, as they've refined their craft, the madcap energy of their youth has been slowly replaced with a growing weariness and surrender to a grim inevitability. What's incredible is that Inside Llewyn Davis is a gloomy paean to the hopelessness of creativity as salvation, a deathly loser ballad that is also beguiling, and as lovely as a wilted rose.
The title character (played by Oscar Isaac) is a hapless, wandering musician who trudges a lonely path through the East Village folk scene of winter 1961, where boredom and dissolution have mixed together into an indistinguishable sludge on the city's streets. Llewyn Davis is a talented but not particularly inspired folkie struggling to scrounge up some dough and make a name for himself as a solo act after the suicide of his musical partner. The duo wasn't all that successful either, but Davis has come untethered without his late collaborator, and he hops from couch to couch of his long-suffering friends, all of whom seem to have crates of their own unsold records lying around. In these early, pre-Dylan days, the downtown folk music scene has yet to coalesce into a full-fledged protest movement, instead consisting of clean-cut young dreamers crooning working man's hymns and bucolic carols from a simpler time. Our guy is a bit too scruffy and edgy to really cut through the dense clouds of coffee shop smoke, but he keeps trying. His more ambitious friends Jim and Jean (Justin Timberlake and Carey Mulligan) seem poised to take the next step, but it's all Davis can do to stay on his feet. A sharply honed wit, he's also a bit of a malcontent, quick to criticize; he's forever cracking wise, but nobody else seems in on the jokes. It doesn't help that his manager is a doddering old crank, his older sister disapproves of his shabby lifestyle, or that Jean, the only woman in his life, is somebody else's gal. Their brief affair behind Jim's back, has resulted in a pregnancy, and turned Jean outwardly hostile: She warns him to double up on condoms and bitterly calls him "King Midas in reverse." She's on to something; Llewyn Davis seems perpetually incapable of getting out of his own way.
Only the Coens could look at the now-mythologized Greenwich Village café folk music scene as a viper's nest, but their smirking hostility toward the times and the genre doesn't prevent them from finding some harmony. As he did for the Coens' O Brother Where Art Thou? T-Bone Burnett has compiled an excellent soundtrack of covers and originals, like the catchy novelty spoof "Please Mr. Kennedy," and the haunting traditional "Fare Thee Well," all winningly performed by the ensemble. We know Justin Timberlake is good at everything, but Isaac has a really lovely voice, and puts just enough wounded tenderness in Llewyn's eyes to keep us from abandoning him altogether.
As you might expect, the cast is terrific. Carey Mulligan is characteristically terrific, subtle even when her character is behaving like a cartoon witch. Her disappointment in Llewyn never fully overcomes her residual affection, and she conveys all of that in a glance. John Goodman sashays through as a belligerent but flowery hipster dandy with a vicious tongue and a nasty taste for heroin. Garrett Hedlund plays Goodman's laconic, poetry-loving driver, a part that would seem like an allusion to Hedlund's soulful turn in On the Road, but the Coens never seem to concern themselves with films outside their own pocket universe.
It does appear curious for two of the most highly celebrated artists to moan about the futility of making art in an uncaring world, and this makes for an experience that is rewarding without being satisfying. There are no commercial concessions anywhere to be found; this is American cinema at its highest level, challenging, provocative, but also profoundly human. Yes, this is a movie about heartbreak and failure, but, to the Coens, just because a life seems inconsequential doesn't mean it deserves to go unexamined. Their most beloved film, The Big Lebowski, is also their most weirdly hopeful: For all his travails and struggles, "The Dude abides." Llewyn does not abide, he does not thrive, but he does commit, rightly or wrongly to his own heart, even when it is foolish or small. He listens ultimately only to his own song.
Inside Llewyn Davis is rated R, has a run time of 105 minutes and is in theaters now.