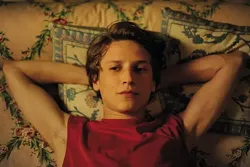 In the House | B
Francois Ozon (Swimming Pool, Potiche) is no stranger to dark drama or ribald farce. But few of his frantic films have found a good balance between those two instincts, too often tipping their hand deliberately in one direction or the other. With In the House, the French filmmaker has struck an engaging middle ground, playfully skewering middle-class pretensions, indulging in some devious narrative tricks, and giving everything just enough of an edge that you don't quite notice how banal the whole enterprise really is.
Fabrice Luchini is a stuffy high school literature teacher cleverly named Germain. In a class full of "illiterates" he becomes impressed with the work of a precocious pupil named Claude (Ernst Umhauer). But what starts as a mentor's suggestions on edits and style develops into a dysfunctional codependency. Cheating, voyeurism and creepy personal intrusions quickly take root. This is because Claude is not just an engaging storyteller, he's recording his firsthand experiences with a bourgeois family he's intruded upon. But is everything he writes about real? This puts Germain on a tragic collision course with his own ego and expectations.
Ozon's first-rate cast (Emmanuelle Seigner is wonderful as a bored, middle-class housewife) keeps his deadpan dark comedy humming along, but beyond its unreliable narrator's who's-teaching-who conceit, there's really no "there" there. In the House has essentially one humorous point to make: that for all Germain's talk of Chekhov and Flaubert, he's as hungry for prurient scandal as the next guy. And so, for that matter, is his art gallery wife (played by Kristin Scott Thomas). Still, the movie is an engaging puzzle. It may not provide a satisfying final picture, but most audiences will enjoy watching its pieces snap into place. mt
In French with English subtitles. Running time: 105 minutes. Opens Friday, May 24, at the Main Art Theatre in Royal Oak.