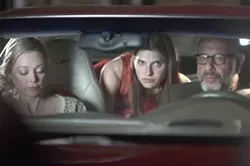 In a World…| A-
Juicy parts for actresses can be scarce in the best of times, but in the 3-D, blockbuster-franchise-obsessed summer season, women are all too often reduced to eye candy or hapless victims.
The only place leading ladies fare worse are in romantic comedies, a genre that has largely devolved into a muddle of pratfalls, cartoonish sexual politics and hyper-sentimentalism.
What pleasure then to find an August release that's built around real, identifiable humans, and sports a complicated but lovably flawed woman at its center. Of course, the star had to write and direct the picture herself just to insure a fully rounded female role, but still — it's something.
LakeBellhas done a lot of interesting work on TV, but in the movies she's mostly been relegated to the rom-com ghetto, playing the kooky second banana gal pal to stars like Cameron Diaz in utter drek like What Happens in Vegas.
While the impossibly leggy (yet brainy) Bell could have easily continued skating by on her delectable, Maxim pinup curves, she's thankfully branched out into making her own projects.
Her first feature is a small-scale and hugely enjoyable comedy with an abundance of warmth, quirky characters — and maybe one too many subplots.
Bellstars as Carol Solomon, a Hollywood vocal coach committed to ridding starlets and professional women of their squeaky girl voices, including one client she accuses of talking like a "sexy baby."
The coaching is merely a stopgap for her true calling: Voiceover acting; a career that Carol was born into. Her father, Sam Sotto (Fred Melamed), is a minor legend in the competitive realm of movie trailer narration, and he's a blowhard blessed with a mellifluous voice and an ego larger than life.
Sam is so self-absorbed he doesn't blink at dismissively telling his daughter, "The industry doesn't crave a female sound." He's also not above trying to beat her out for a highly coveted gig: Voicing the trailers for a Hunger Games-like epic fantasy.
Filial rivalry is just one issue Carol must contend with, along with conflicting romantic interests, professional jealousy, technical homelessness and her sister's disintegrating marriage.
This satire of clashing egos in L.A.'s substrata can be bracingly funny, though some of the gags aren't as clever the second time around. The script is witty and Bell has smartly surrounded herself with funny people like Demetri Martin, SNL vet Michaela Watkins and Children's Hospital co-stars Rob Corddry and Ken Marino.
There is nothing earthshaking in the simple joys of a modest indie like this one, but it does create a world we want to linger in.
In a World… is now playing in select theaters andis rated R with a running time of 93 minutes. Watch the trailer here.