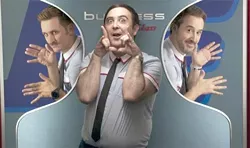 I'm So Excited! | C-
If points were awarded for being smutty and frenetic, Pedro Almodovar's return to garish, flamboyant comedy would be a winner. Unfortunately, things like character, story and humor count.
A pink-and-turquoise production palette is a red flags that the Spanish director is out to evoke the fizzy, perverted outrageousness of his earliest romps, as a plane destined for Mexico encounters mechanical troubles, and the passengers and flight crew prepare themselves for their impending doom.
Of course, that means drugging the economy class cabin into unconsciousness so that they won't have to face the inevitable anguish and panic that accompanies certain death. That leaves the pilots, those flying first class, and a trio of gay flight attendants who — ahem — service them to calm their nerves with alcohol while eagerly spilling secrets and sperm.
Soap opera-style subplots and backstories are wedged between gossipy monologues and hetero-homo confusions as the travelers become increasingly uninhibited in their behaviors and confessions. It's like a very horny, very gay parody of airplane-disaster movies … without the laughs.
There's nothing wrong with wanting to make a naughty, candy-colored version of Airplane! Yet, without the absurdist, universal touch Almodovar brought to his earlier films, I'm So Excited! comes across as mannered, lurching and uninvolving.
There's a smidge of political commentary amid the preening high jinks, but the asides about government corruption and the European economic downturn's harsh impact on Spain struggle to resonate.
That leaves it to vets like Cecilia Roth and Lola Dueñas to gamely camp it up, hoping to compensate for the director's lead-footed approach to farce. There are a few amusing interludes, some artfully conceived shots and the passable charms of the pouting, all-male crew that plays both chorus (literally, at one point, as they lip sync to the Pointer Sisters) and mischievous sprites. But it's not enough to sell Almodovar's message of living every day as if it's your last.
In the past, Spain's most celebrated filmmaker has been able to blunt his more vulgar instincts by injecting heart and a goofy sense of irony into his films. As bonkers as his characters were, their pain was often rooted in the kind of everyday problems audiences could associate with.
Here the issues are no less mundane, but they seem more like afterthoughts than extensions of the characters. Amid an endless parade of jokes about straight men who are really closeted queers, and women who desperately need love, sex or some combination of the two, there's far too little magic. I'm So Excited! neither lives up to its name nor its exclamation point.
I'm So Excited! opens at the Main Art Theatre in Royal Oak on Friday, Aug. 26, and is rated R, with a running time of 95 minutes; in Spanish with English subtitles. Check your local listings for screen times. Watch the trailer here.