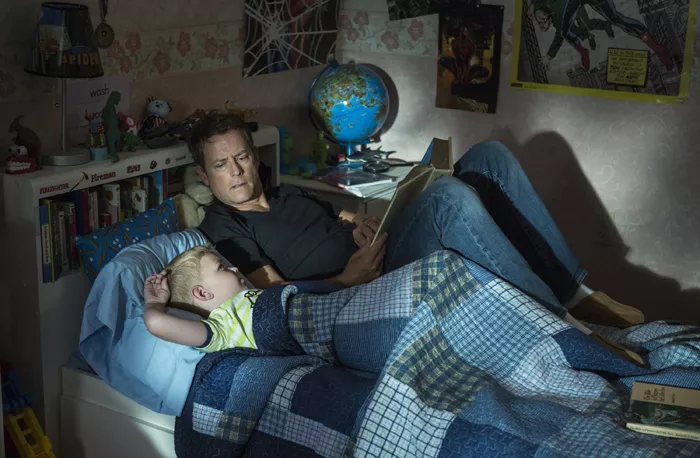 Heaven Is for Real | C
The blessed union of the multiplex and the megachurch is sanctified in this well-intentioned yet nakedly commercial attempt to pass the studio collection plate. This is but the latest demonstration of Hollywood's newfound faith in the evangelical dollar, a faith that was tested by releases like Son of God but given new life by the recent blockbuster success of the audaciously strange biblical epic Noah. While this movie is decidedly more modest in scope, Heaven Is for Real is also based on a bestselling book, in this case a "nonfiction" smash about a pastor's crisis of faith after his young son's near-death experience.
Greg Kinnear is in achingly earnest mode as hardworking Nebraskan Todd Burpo, a blue-collar guy who toils as clergy, a garage door installer, a volunteer fireman, a high school wrestling coach and, presumably, a construction worker and an Apache chief after hours. He's a regular, decent man dealing with the everyday struggles of keeping his family fed in the economically endangered heartland. Things take a dramatic downturn following a serious softball injury and a bout of kidney stones, adding a huge medical bill to the already mountainous pile on the kitchen table, which becomes a true crisis when his toddler son Colton (Connor Corum) is hospitalized with a burst appendix. Pushed to his breaking point, Todd begins to rage against the man upstairs, while wife Sonja (Kelly Reilly) doubles down and asks the town to lift them in prayer. Miraculously, the boy recovers, but he awakens with newfound insights into the afterlife. The cuddly kid cheerfully reports that he spent time with the cherubim, was visited by long-dead relatives, and was even comforted by the Lord himself. At first amazed by these accounts, Todd becomes increasingly uneasy about these visions of heaven, with his sanity and previously strong belief system rattled to the core. Before, the elder Burpo mostly went through the motions of Christianity, but with an innocent child detailing the afterlife, he's forced to seriously consider the theological implications of his values being made real.
The likably understated Kinnear does his best to make you believe in his character's tortured thought process, but, unfortunately, Braveheart writer turned director Randall Wallace (a Mel Gibson disciple) insists on making the vaguely spiritual into something explicitly silly, creating a dime-store vision of heaven, complete with twinkly angels and a Jesus that bears an uncomfortable resemblance to Kenny Loggins. This dogged literalism and a dependence on heart-tugging schmaltz, with a diabetic coma-inducing soundtrack and cheesy visual touches, will likely move the pre-sold Sunday matinee crowd. The rest of us sinners will retain our doubts.
Heaven Is for Real is rated PG, has a run time of 100 minutes and is in theaters now.