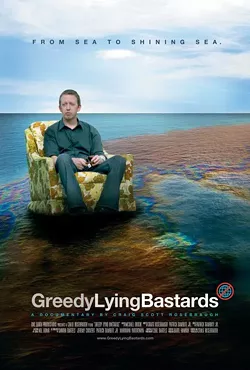 Greedy Lying Bastards| B
Climate change docs are about as common as freakish superstorms these days, and most of them, like the recent, visually mesmerizing Chasing Ice, lay out their case with a numbing assault of overwhelming data and sobering statistics. Greedy Lying Bastards possesses a good deal more energy, and a sort of snotty, pseudo-punk attitude to back up its abundant stream of numbers and graphs. As you may have guessed from its inflammatory title, this flamethrowing polemic seeks less to persuade than to enrage, putting the focus squarely on the various corrupt politicians, tick-like lobbyists, media vultures and loathsome flacks who front the global warming denial effort.
Director Craig Rosebaugh is bristling with righteous indignation over the inaction of political and business leadership on the problem, and to the indifference of the public to the rapidly evolving environment conditions, but predictably he's short on answers. Like a middle schooler on an Xbox-and-Mountain Dew binge, the movie bounces between topics and themes with drunken abandon, trying to link forest fires in California, the plight of flooded island nations, media subterfuge, congressional fecklessness and vast corporate conspiracies into one frenetic tapestry. The flick works best when it laser-targets the shameless, well-financed mouthpieces for industry interests who cloud every attempt at every a serious discussion of global fossil fuel consumption. Particularly odious is a creature called "Lord Christopher Monkton," a vociferous, camera-hungry denier who is neither a scientist nor an actual lord nor any sort of British peer.
In any crime, it's best to follow the money, and Greedy uses its zippy graphical style to good effect in tracking the rivers of cash that flow in all directions from ruthless coal and oil industry plutocrats, including the detestable Koch Brothers, who seem to have their grubby fingerprints on every dirty cocktail glass in Washington, thanks to the free-for-all created by the Supreme Court's horrid "Citizens United" decision.
This may seem too trivial a complaint, but Rosebaugh has a thin, high-pitched voice, and a mildly grating persona that wears on the viewer after a while. Despite all the scorn heaped on him by opponents, Michael Moore is still the master of the personality-driven outrage documentary, and the talent gap between him and his imitators is as stark as a melting iceberg falling into the sea.