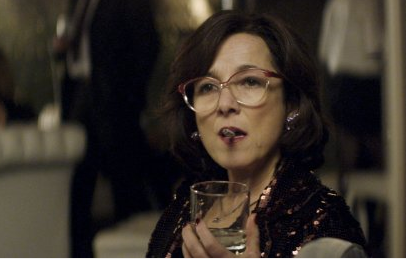 Gloria | B+
If you don't think casting matters all that much, take a look at the work Paulina Garcia does in Gloria, a small, wispy little story and a role that might have vanished in less able hands. Garcia is in nearly every single frame, and she elevates a tale that could have easily become maudlin and drab, into a tiny triumph of observation, warmth and insight. Best known in Chile as a stage actress and director, Garcia has a naturalness, buoyancy and grace on camera that make viewing her effortless, even as the film wades into depressing waters. I can only shudder imagining the casting sessions for the potential American remake, as the suits thumb through the headshots of younger, more glamorous actresses, saying things like, "We can 'ugly up' Cameron Diaz, right?"
The title character is a lonely, long-divorced office drone with grown children and a new grandbaby, buried beneath oversized glasses and frumpy smocks. But in her off hours, she hits the singles bars and mixers of Santiago, dancing the night away, and occasionally taking home a gentleman. One of those lucky fellas is Rodolfo (Sergio Hernandez), a courteous, dignified, slightly older businessman. They spark immediately, and begin an intensely passionate, physical affair, that seems to have serious potential. But cracks begin to emerge: He seems tethered to his cellphone, always on call for the latest disaster from his kids or allegedly estranged wife. When Gloria brings her new beau to a family holiday dinner, complete with her former husband, Rodolfo wilts under the spotlight.
To say more would be to rob the film of its few remaining plot twists and modest surprises; this is not a film about narrative sweep, but about the slow, steady business of reclaiming one's soul. Director Sebastián Lelio is savvy enough to lay back and let his talented lead actress carry the heavy load. Garcia is fearless in the fairly graphic sex scenes, and even more exposed in the emotionally charged moments of vulnerability, and delicious outbursts of joy. The camerawork is unobtrusive, building a level of kitchen counter intimacy that initially feels a tad voyeuristic, but gradually allows us to develop a bond with the protagonist. We root for Gloria, in her little victories and many painful defeats. When Lelio finally surrenders a bit of his thoughtfully considered taste and allows a Spanish cover of Laura Branigan's cheeseball '80s dance hit "Gloria" on the soundtrack, we don't mind; we're ready to cheer this lady and sing along to her theme song.
Gloriais rated R, has a runtime of 110 minutes and is in select theaters Feb. 7.