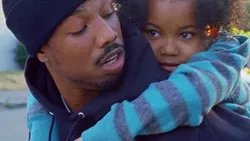 Fruitvale Station| B
Fortuitous scheduling occasionally means a tragic film's release dovetails with other tragic events to create a sort of accidental buzz, which is definitely the case with this engaging, harrowing and somewhat manipulative debut film from director Ryan Coogler. Fruitvale Station is named for an Oakland BART train stop, where, in 2009, a 22-year-old ex-con turned family man, Oscar Grant, was shot in the back by a policeman while under arrest, a sad scenario that the film of the same name drives relentlessly toward, while also trying to discern the very real person behind the instant martyr. Grant's shooting was captured in a cell phone video, which was released to the Bay Area media. It was a real-life case fraught with controversy, confusion and burning emotions on both sides — an all too familiar sensation in the current media and political maelstrom unleashed by the Trayvon Martin verdict. The connection between the two cases is tenuous, other than the fact that in both instances a young black man was shot under questionable circumstances — and that, in death, both men have become symbols for America's deep racial dysfunction.
Apparently that symbolic link has been enough to make Fruitvale a modest art-house hit thus far in limited release, but positive word of mouth may overpower the allure of controversy in the long run. This is an effective, warm and deeply human portrayal of a complicated person — even if the real world facts are not allowed to tamper with the carefully crafted movie fairy tale. In life, Oscar Grant was a drug dealer with a history of violence, but as depicted in the film he's also a devoted daddy who turns his back on the drug trade, shares his grandma's cherished recipes with strangers, and weeps when a stray mutt gets run over. Reality probably hovers somewhere between those extremes, but writer-director Coogler's obvious sympathies distract from but do not completely diminish the movie's immediacy and emotional resonance.
Lead actor Michael B. Jordan has a few features under his belt and an extensive TV résumé, including on the critically venerated crime saga The Wire, but his work here should really grab the attention of a wider audience. He inhabits Grant's skin with grace, and makes him an instantly relatable, likable but complicated character. Through Jordan's nicely textured performance get a guided tour of Grant's struggles, from pleading to get his grocery store job back after being fired for lateness, to his many relationship squabbles with his girlfriend Sophina (Melonie Diaz). With bills due and a young daughter to care for, the temptation of making easy cash back on the street is strong. For an angry young man, Grant certainly has a lot of angels on his side, first and foremost his wise, loving but fiercely certain mother, played with a familiar mix of flair and skill by Octavia Spencer (The Help).
As a provider and homemaker he's generally unreliable and chaotic, but Coogler keeps fiercely trying to sell us on the notion that Oscar is an innately good soul that has been merely been corrupted by his harsh environment. Your willingness to believe in the positive aspects of the narrative as spelled out will probably be colored by your own circumstances, background and perspective, though the film is powerfully yet sometimes clumsily trying to force a rallying cry into our throats.
Fruitvale Station is in theaters now, rated R and with a running time of 85 minutes. Watch the trailer here.