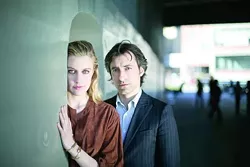 Frances Ha | A-
Golden-haired, lovely and perpetually frazzled, Greta Gerwig is the current darling of indie cinema; first conquering the zero-budget boho world of Mumblecore, then moving into the slightly higher profile art house fare of notable directors like Whit Stillman (Damsels in Distress). She remains unsullied even after dipping her toes into the mainstream with the woe-begotten remake of Arthur.
Gerwig's real debutante ball, at least in the eyes of many film snobs, was playing the smart, sweetly pathetic romantic foil to Ben Stiller's epic grump in Greenberg (2009). That role earned her love from not only from critics, but the film's director, Noah Baumbach, who is now her live-in boyfriend. So it is that the gorgeously-made Frances Ha serves as a love letter from director to star; and like all love notes that aren't ours, it's intimate, mawkish and, in some vital way, unknowable.
Gerwig's character, Frances Halladay, is a gawky, lovably hapless 20-something Manhattanite whose career and personal lives have simultaneously come to a stand still.
Frances' prestigious dance company is on the verge of cutting her. Her boyfriend of the moment dumps her and, worse, her long-time roommate and bestie soul mate, Sofie (Mickey Sumner, daughter of Sting), is moving out.
Frances embarks on a long, dark couch surfing of the soul — bouncing across flats and boroughs with a sort of aimless, drifting restlessness, and with no end in sight.
Away from her BFF, she struggles to fit in; one potential suitor playfully observes that her quirks and foibles make her "undate-able." When she forgets to bring cash to a dinner date, she blurts "I'm so embarrassed; I'm not a real person yet."
Frances is the personification of whim: She flies alone to Paris for a weekend on a credit card she's can't afford, just because some snooty dinner party guests blathered on about the wonders of the City of Lights.
The dirty secret is that, secretly, none of this bothers her as much as she thinks it should. Her perpetual discomfort has more to do with the embarrassment of not being as shamelessly ambitious as her peers.
Like all of Baumbach's protagonists, Frances is stuck in a postadolescent twilight, reluctant to move onward and upward, but unlike those other sourpusses, she isn't bitter; she just is. When she finally gives herself permission to be weird, and happy and free, then inspiration flows like champagne as bubbly as she is.
If you can resist the sight of Gerwig giddily romping through New York to David Bowie's "Modern Love," then your heart is flinty, indeed. The cool downtown settings, frank, snarky sex talk and female bonding — along with the presence of the oddly endearing Adam Driver — will bring to mind HBO's Girls.
But Frances Ha is a gentler, more openly affectionate trip inside the self-absorbed millennial psyche. mt
Frances Ha is showing at the Main Art Theatre in Royal Oak; Rated-R, 86 min.