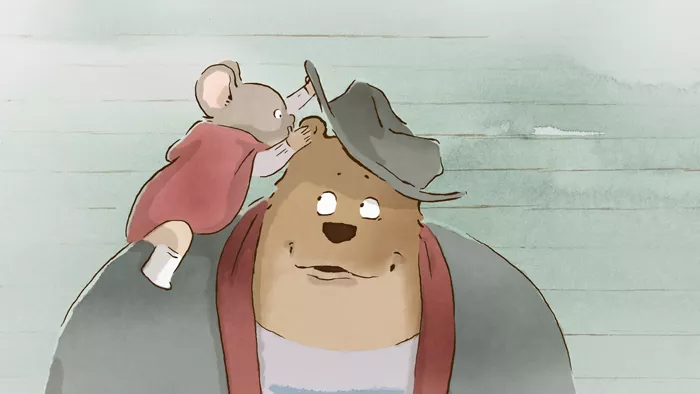 Ernest & Celestine | B+
It may not have high-gloss pizzazz, catchy pop songs or attention-grabbing CGI — but for my money, Ernest & Celestine is better than anything Disney has put out lately. And, yes, I'm including Frozen.
Created by the same people behind a wonderfully insane Belgian confection called A Town Called Panic, this charming, sweet-natured and gorgeously understated adaptation of Gabrielle Vincent's children's books was nominated for a much-deserved Oscar.
Living beneath a village of bears, the mouse Celestine (voiced by Pauline Brunner) lives in an orphanage, where she's taught that bears are ferocious creatures who dine on mice. This makes her nightly missions to pilfer teeth from bear cubs all the more stressful. The teeth are repurposed by the rodents who too quickly wear their own down in order to build their vibrant underground community.
Unfortunately, the last thing Celestine wants is a future in dentistry. She is an artist at heart, one that imagines bears and mice living in peace together. That dream is put to the test when she's nearly caught by the bear family that owns Le Roi du Sucre candy store.
Ernest (Lambert Wilson), on the other hand, is a poor busker of a bear whose desperate attempts to quiet his pangs of hunger have seen him run afoul of the law. When he and Celestine cross paths, they strike a deal: She will help him find food, and he will help her find teeth. The two quickly become friends but, unluckily, also end up fugitives from the law. Holing up in Ernest's house for the winter, their relationship deepens as the authorities close in on their location.
Screenwriter Daniel Pennac does a nice job of interweaving the gentle humor of Vincent's picture books (a mouse dentist's speech on the power of incisors is delightfully crazed) with a tale about intolerance and finding your own way in life. Those are pretty standard tropes for a kids flick, and the storytelling never really surprises, but instead of rushing us toward the next dramatic plot turn, directors Stéphane Aubier, Vincent Patar, and Benjamin Renner fill their movie with small sweet moments that allow us to connect to Ernest & Celestine's deepening relationship. If my own kids are any indication, the approach works, casting a spell that captures rather than demands your attention.
But it's Ernest & Celestine's lovingly handcrafted look that impresses most. With soft watercolor shading and bold lines, the filmmakers have fashioned a kids film that almost feels impressionistic, creating the sensation of a moving picture book. The attention to detail, the lyrical visual tangents — as when Ernest dreams of sweets or Celestine has a nightmare about a sea of mice — are more exquisite than even the showiest computer-generated effect.
Ernest & Celestine opens Friday, April 25, at the Main Art Theatre in Royal Oak. It's rated PG with a running time of 80 minutes. Showings will be presented in both English and in French with English subtitles.