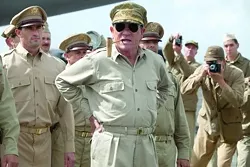 Emperor | B-
In late summer 1945, with the Empire of Japan on the brink of total collapse, and with a devastated Tokyo still smoldering, Supreme Commander of Allied Powers Douglas MacArthur, with an absurdly large corncob pipe jutting from his prominent jaw, struts off the plane and begins stomping around like he owns the place, which essentially, he did. The image-obsessed MacArthur smartly understood that nothing would impress the proud Japanese like a display of good old-fashioned American swagger, and of course swagger was a commodity he was never short on.
A delightfully droll Tommy Lee Jones slips on MacArthur's baggy khakis with ease, and is such an obvious choice for the flamboyant general it's a wonder he's never played the role before. Unfortunately, screenwriters David Klass and Vera Blasi shift the focus away from the dynamic MacArthur, and toward his intense, duty-bound deputy, Gen. Bonner Fellers, played rigidly by Matthew Fox. The determined Fellers is tasked with assessing the culpability of EmperorHirohito for Japan's war crimes, a thankless job because Japanese society was so tightly wrapped around the idea of the total infallibility of the monarch. How can a god be wrong?
Untangling the complex thicket of self-interest, pride, rage and shame surrounding the fallen Japanese government's inner circle would be hard enough, but Fellers is also struggling with his own conflicted feelings for the conquered country. There are periodic flashbacks to a swooning college romance with a lovely Japanese exchange student Aya (Eriko Hatsune), and the American still keeps a candle burning for this long-lost love, whose whereabouts are a mystery. The challenge is to put his emotions aside and forge ahead with a plan that will begin to rebuild Japan while preserving the fragile, hard-won peace.
Emperor is a fascinating bit of history cloaked in a workmanlike drama that proceeds with the clipped efficiency of a military parade drill. Aside from Jones, the other Army officers are all as drab as their olive service jackets, and the various Japanese officials, with their de facto uniform of Charlie Chaplin mustaches and formal, butler-like suits, are difficult to relate to.
As a director, Peter Webber (The Girl with the Pearl Earring) is competent but pedestrian, though the period details and backdrop of firebombed ruins are impressively authentic. The plot is more flexible than the production design; the sappy love affair seems to be Hollywood fiction, and in actuality Fellers' mission was less about fact-finding than co-coordinating the witnesses, so that there were no gaps in their testimony. In real life, Fellers was a complicated character with a checkered wartime career and later involvement with the extreme anti-commie John Birch society, but here he's depicted as more blandly, matinee heroic.
By all accounts, though, his majesty Hirohito was a very odd duck, and the glimpses of his historic, awkward first meeting with MacArthur reminded me of 2005's The Sun, a more weirdly intimate film about the same subject, viewed from the other side.
Emperor hints at a more intriguing story within its handsomely fusty interior; and in this case, printing the facts would have outshone the legend.mt