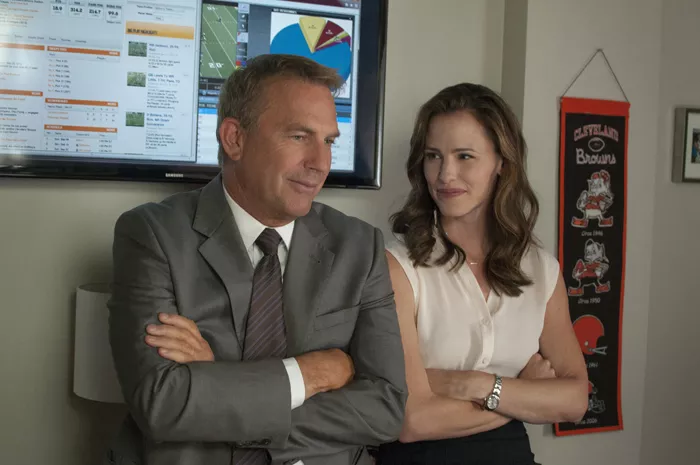 Draft Day | C+
With the NFL's merciless total dominance of all facets of culture nearly complete, the sport has even become the consuming passion of jock-sniffing geeks. No longer content with selling on-field heroics, the gridiron industrial complex has labored to build a ceaseless, year-long data stream of stats, projections and flowcharts, and intensive, round-the-clock coverage of such previously obscure events as pro-day workouts. This fetishism culminates in Draft Day, a film that tries to convince us that the real action happens not just in the stadiums, but also in sterile team offices and conference rooms, where executives wheel and deal their meaty commodities in phone calls that crackle with Cold War intensity.
The sleepy-eyed Kevin Costner pounds mug after mug of coffee as Sonny Weaver Jr., the besieged general manager of the Cleveland Browns who finds himself on the hot seat heading into the 2014 draft (as if being in charge of the hapless Browns weren't always perilous). Weaver is facing fire from all sides: downtrodden fans, the anxious players, the coaches, other teams, an impatient owner (Frank Langella) and Weaver's number-crunching girlfriend (Jennifer Garner), who is tired of hiding their interoffice romance.
Sonny buys himself a bit of breathing room by dealing most of the team's future prospects to Seattle in exchange for this year's No. 1 pick. The predestined top choice is handsome, reptile-eyed QB Bo Callahan (Josh Pence), a man the media and all the experts have anointed as a "can't miss" gunslinger, but who has the obvious character flaw of having P. Diddy (Sean Combs) for an agent. Meanwhile, the combative head coach (Denis Leary) has his heart set on a running back, and Sonny has yet another hard-hitting, virtuous underdog on his radar. The "action" consists mostly of characters hurling factoids and anecdotes at each other, and engaging in rapturous narratives about each player's virtues that sound like ESPN promo spots.
The script is credited to rookies Scott Rothman and Rajiv Joseph, but it is so full of hyperbole and uplifting mantras that it feels like a fax from the leagues' PR department. The storyline is overburdened with subplots and heart-tugging family hokum that never meshes with the rapid-fire gamesmanship. It's pretty unbelievable that the GM's mother would be marching into the war room during crunch time carrying her husband's ashes, but diehards will also have to swallow that the Seahawks, last year's real-world champs, have the first draft pick. Garner's character is a bit livelier than her usual dishrag, but her role as a hardcore stats wonk with supermodel looks seems like real Fantasy Football.
Comedy all-pro Ivan Reitman keeps the pace brisk and relatively engaging. The director tries to juice the many, many phone conversations with a barrage of wipes and dissolves, and overlapping split screens, like a comic book — lending visual urgency to the potentially staid insider dueling.
This is a far cry from laugh-a-minute career highs like Stripes, but the movie remains oddly watchable, even if an underlying tale in which millionaires are going to get richer a little faster may have trouble making it onto the highlight reel these days.
Draft Day is rated PG-13, runs 109 minutes and is in theaters on now.